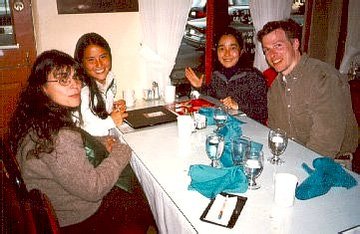 Dad's friend Sachiko (Yoshikawa) and her husband Wayne Blackwelder, when we got together at an Indian restaurant in Palo Alto just before they moved to Oregon in 1999. Sachiko used to work for Pentax in Tokyo and Dad met her when she first arrived in California to attend college in Marin County. She has seen me grow from a toddler a few years old to a college student and was shocked to see me the day this picture was taken after so many years. Sachiko hasn't changed very much but I guess I have.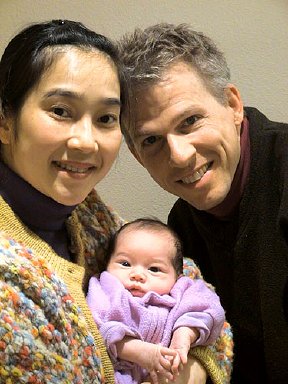 Sachiko and Wayne's daughter Kinu arrived at 3:00 a.m. on December 26, 2003. She weighed 7.1 pounds and was 19" tall. Kawai desu!!!
"Kinu" means "silk" in Japanese. Sachiko and Wayne liked the idea of naming her after the old Silk Road which linked the East and West. Sachiko says that since Kinu arrived their lives have changed so much: "It has been like a little typhoon arrived in our house!!!"
More pictures from Sachiko (New Year 2005 —Kinu is one year old!).

---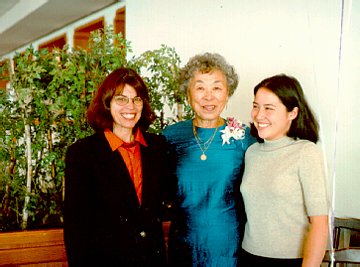 Mrs. Ong celebrated her 80th birthday in November 2000 with family and friends at a Chinese restaurant in Emeryville. Mom and I were able to attend but unfortunately Dad missed it because he was still driving up from L.A. during the party. We had other chances to get together with the extended clan at Thanksgiving and Christmas Eve, which we always look forward to.
See Naomi > Stanford graduation for more pictures of Mrs. Ong and her family.

---