Article from the Program
McKinley High School

1990 Hall of Honor Ceremony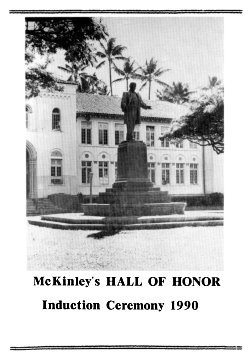 DOUGLAS SAICHI SAKAMOTO
McKinley High School Class of 1935
City and County Parks and Recreation Director
State Department of Transportation Deputy Director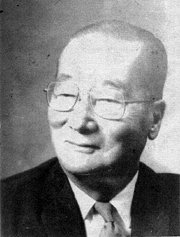 Mr. Douglas S. Sakamoto was born in Honuapo, Ka'u, Hawaii on July 4, 1917. He is married to the former Dorothy Kim Chun Au who graduated with him in 1935, and has four children: Francis Jay, Carol May, Michael Ray, and Mary Gay.
Mr. Sakamoto attended the University of Hawaii where he received his 5th Year Professional Certificate in Teaching and Public Administration and Tropical Agriculture. Mr. Sakamoto started his career in Vocational Agriculture as a teacher at Kalanianaole school (1940–42) on Hawaii.
After his first teaching assignment, Mr. Sakamoto managed the American Grocery Poultry Farm (1942–45); served as the county agricultural agent for the University of Hawaii (1945–49); teacher, veteran trainer and Young Farmer Adviser at McKinley High School (1949–63); Superintendent of Maintenance (1963–64), Deputy Director (1964–67), Director (1968) for the City and County of Honolulu Department of Parks and Recreation; Director of Operations for Mililani Town, Inc. (1969–70), Administrative Landscape Consultant for the Hawaii Housing Authority (1970–71); and Deputy Director for the State's Department of Transportation (1971–80). Besides his professional assignments, Mr. Sakamoto was a real estate broker (1954–71).
Mr. Sakamoto was actively involved in the community. His activities include: Honolulu Poultry Producers Cooperative Organizer and Director (1946–52), Honolulu Orchid Society Director (1948–64), Honolulu Orchid Society President (1956–58), American Horticultural Society member (1956–68), Aloha Week Hawaii, Inc. (1960–62, 1970–71), Hula Bowl Charities and Hawaii Islanders, Inc., Director (1964–76), International Shade Tree Society (1964–69), The Outdoor Circle Honorary Life Member (1968–present), and Lester McCoy Pavilion Advisory Committee member (1980–present).
Mr. Sakamoto lists many accomplishments during his illustrious career. He planned, formed, and supervised the Honolulu Poultry Producers Cooperative (1946–49); prepared and closed farm lot purchases for veterans and young farmers in Waimanalo as a real estate broker (1961–62); planned, programmed and implemented reorganization of the Operating and Maintenance Division of the City and County of Honolulu Department of Parks and Recreation (1964–66) which included personnel management, policies and regulations interpretations, producing a safety manual and in scheduled inservice training.
Mr. Sakamoto prepared a benefits and health fund manual and in safety program, and planned and implemented the reconstruction for golf greens for Mililani Town, Inc. He initiated landscape, operation, and maintenance plans for the Hawaii Housing Authority's housing projects (1970–71).
Mr. Sakamoto takes pride in his establishment of Hanauma Bay as a Marine Sanctuary and the development of Kualoa Park (1967–68). He is credited for initiating the City and County Street Beautification Program, which today includes approximately 125,000 trees planted and thriving. He pioneered nationally the construction of split median highway traffic barriers to plant hedge material for aesthetic and screening purposes (1972–78).
Mr. Sakamoto feels McKinley prepared him in Social Studies, Math and Science which made the transition toward a Bachelor of Science Degree at the University of Hawaii relatively simple. His activities at McKinley was limited to participating in school assemblies because he had to deliver newspapers daily.

---