---
Images of CAD
The Art of Computer-Aided Design
---

Nemetschek North America Unveils Images of CAD
Nemetschek publishes Images of CAD, first book to celebrate computer-aided design as art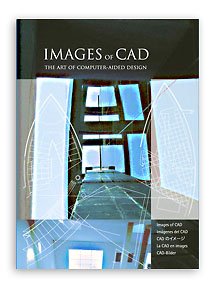 Michelle Ervin
Public Relations
410-290-5114 (719)
Fax: 410-290-8050
mervin@nemetschek.net

Nemetschek NA
7150 Riverwood Dr
Columbia, MD 21046 USA
Fax: 410-290-8050
www.nemetschek.net

Columbia, Maryland (February 7, 2005) — Nemetschek North America announced today that it has published Images of CAD, the first coffee-table book to celebrate computer-aided design as an art form. The 200-page full-color book features 2D drawings, wireframes, renderings, and photographs of finished projects depicting the works of VectorWorks users from 23 countries worldwide. Project descriptions have been translated into the native language of the submitter, representing six different languages.
A 3D model of Castle Neuschwanstein, or "The Fairy Tale Castle," near Fussen, Germany, created by Marcus Schmidt, a concert stage design for Australian pop star Kylie Minogue, designed by Vince Foster, and 2D plans of the YMCA headquarters, in New York City, generated by Elliot Newcomb, are among the more prominent projects featured.
Richard Diehl, chief executive officer of Nemetschek North America, conceived the idea for the 200-page full color book to acknowledge CAD as an emerging form of art.
"Some of the greatest architects and designers we have known used pencil and parchment, and their drawings are showcased in museums as works of art," said Diehl. "Models of Bernini's great sculptures and sketches of his columns that enclose the piazza before St. Peter's Basilica at the Vatican in Rome are museum fixtures, as are sketches and plans of Frank Lloyd Wright's designs. Now we're seeing computer-generated designs grace the walls of some contemporary art museums. While we can't predict the future, we can surely assume that the CAD drawings, plans and models of today's leading architects and designers will be tomorrow's art. And this book celebrates this art form."
For more information about Images of CAD, visit Nemetschek North America's e-store at https://secure.nemetschek.net
Nemetschek North America (formerly Diehl Graphsoft) is a wholly-owned subsidiary of European software giant Nemetschek AG. A global leader in design technologies, Nemetschek N.A. has developed CAD software for the personal computer since 1985. VectorWorks, our flagship product, is one of the world's best selling CAD products and is available in over 85 countries and is translated in 8 languages. The VectorWorks Industry Series is a line of products designed specifically to meet the needs of designers in the fields of AEC, entertainment and landscape design. For more information, visit www.nemetschek.net
Price: $49
To order: (877) 202-8199


---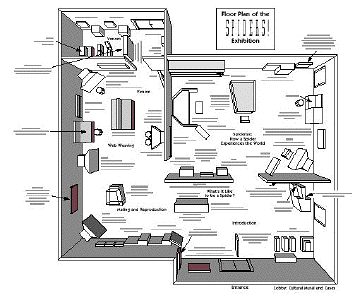 Dad's contribution is a drawing showing the layout of the Smithsonian Institution's traveling exhibition Spiders! Click on the picture above for an Acrobat PDF image into which you can zoom and move around to see more detail.
The accompanying text in the book reads:
To acquaint themselves with the layout of the Spiders! gallery for the Smithsonian Institution Traveling Exhibition Services, volunteer docents required an exhibit plan. They needed to fully understand the purposes of the various components. Upon completing the outline, however, designer Francis Sakamoto found it very uninviting and uninformative. His original intent was to draw the exhibit as a 2D plan and label the components with their main titles along with a caption expressing the main points to be conveyed.
Therefore, he found a different solution by working in VectorWorks. When he rendered the gallery in 3D, he discovered that it conveyed a much greater and more immediately understandable amount of information about the physical layout of the gallery and its organization. The rendered image was imported into QuarkXPress to add text. The result was a very useful tool for the docents. Unanticipated uses were also discovered for the project, including posting a PDF of the rendering on the museum's website.

---