---

Aiming High

---
By Jason Kaneshiro
jkaneshiro@starbulletin.com

As a member of a Boy Scout troop in Kaimuki five years ago, Ryan Tanoue had no idea his quest for a merit badge might someday take him to the other side of the globe.
The summer before entering St. Louis School, Tanoue decided to take a riflery class in hopes of earning another decoration for his scout uniform.
Last weekend, the University of Nevada freshman captured two bronze medals at the International Shooting Sport Federation World Championships in Finland.
"It just kind of shocks me sometimes to know that I just started doing this five years ago in high school and I've gotten to travel all the way around the world and all over the United States," Tanoue said. "I'm just really thankful, I've been fortunate and I've been blessed."
Tanoue, a 2001 St. Louis graduate, won the NCAA air riflery championship this spring and capped an eventful year by finishing third in the junior men's 10-meter air rifle competition at the world championships held in Lahti, Finland. His performance helped the U.S. junior men's squad claim the team bronze.
The world championships are held every four years and rank second only to the Olympics in their significance in the riflery community.
"Talking to some other people, the junior men haven't medaled in a long time … not in the last two world championships at least," Tanoue said. "The national coach was real happy, my teammates were happy, I was really happy. Third place in the world, I'll take that any day."
Tanoue began his climb up the riflery rankings as a freshman at St. Louis and won the 2000 state boys championship as a senior.
At first, shooting at a target less than two inches wide and a pin-sized bull's-eye proved maddening. But the challenge only enticed Tanoue.
"It can get frustrating," he said. "But I wanted to do it because it was hard. I figured if I could get good at that, I could get good at anything."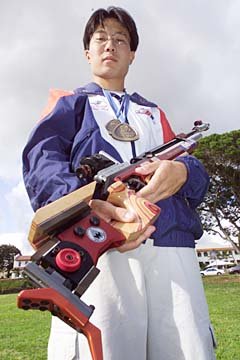 GEORGE LEE / GLEE@STARBULLETIN.COM

Hawaii's Ryan Tanoue ranks his NCAA individual championship as the biggest of many accomplishments to date.
---
Tanoue made an immediate impact in college as he led Nevada to an undefeated fall season and closed the campaign by winning the NCAA individual championship held at Murray State in Kentucky in March.
Tanoue tied defending national champion Matt Emmons of Alaska-Fairbanks with 392 points in the final match. But Tanoue won the tiebreaker by hitting 29 centers to Emmons' 26.
"Winning NCAAs is still probably my biggest shooting accomplishment to this point," Tanoue said. "I expected to do well my first year of college. The thing is, knowing you can do it and actually doing it are two different things. … I knew the opportunity was there, so I'm just happy I was able to take advantage of it."
Tanoue returned the next day for the team competition and shot a 395 to lead the Wolf Pack to an eighth-place finish.
He earned his ticket to Finland by winning the junior men's title at the USA Shooting World Championship Team Selection meet in May with a four-day score of 690.5.
Tanoue then scored 592 points out of a possible 600 in his final match at the world championships to take the bronze, finishing behind Germany's Dirk Leiwen and China's Fan Fei.
"The last few years we haven't been the strongest team, so I guess it's a little intimidating knowing that you're not the big fish out there," Tanoue said. "But shooting is such an individual sport, you just have to go out there and do your own thing."
"I knew the German guys were real good, the Chinese and the Koreans have been good, so I just had to go out there and shoot my own match and just focus on what I needed to do."
Tanoue said he and St. Louis coach Zig Look started aiming for the world championships before his junior year of high school.
"It was very gratifying on many levels, personally, for Ryan, for the United States," Look said of Tanoue's performance.
Look said Tanoue had the natural coordination to develop into a quality shooter when he first picked up an air rifle, but his willingness to spend often monotonous hours at the rifle range has hastened his development.
"He puts in a lot of hours on and off the range … and I guess that is what sets most Olympians apart from other people, how much they're willing to give up to get there," Look said.
Tanoue credited the training he received from Look and his exposure to top level junior competition in high school for preparing him for college and international caliber competition.
"I was able to shoot in Junior Olympics and national championships when I was in high school, so when I got to college it really wasn't that big a change as far as level of the match and travel," Tanoue said.
Tanoue is putting his air rifle away for the rest of the summer and plans to take a break from his six-day-a-week training regimen before heading back to Nevada in August.
The college season starts in September and he's planning on shooting in the Fall Selection match in Georgia in October, which serves as the first half of qualifying for next summer's Pan American Games.
But the prospect of shooting for the sport's ultimate prize is also beckoning in the distance. Tanoue plans to compete in the national team trials for the 2004 Olympics in Athens, Greece, but said the 2008 Games are probably a more realistic goal.
"Whether or not I'm at the level where I need to be to make the Olympic team, I won't be able to tell until I show up for the trials," he said.
"Pushing that hard and getting that much closer to perfection is going to take some time. I don't know if I have a realistic shot at it. I try to stay positive about it, but there's a lot of good shooters in the United States and to make (the 2004) team is going to be difficult."
• • • •

© 2002 Honolulu Star-Bulletin — http://starbulletin.com
---