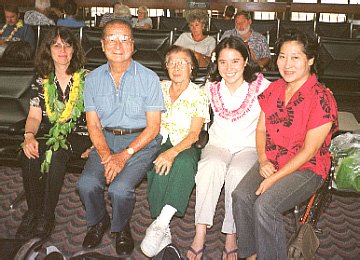 At the airport with leis from Aunty Carol. We took home two gorgeous double-ginger leis from Johnny & Mrs. Miyashita in the bags on the right. The agriculture inspector at the terminal jokingly said that we couldn't take them with us because he wanted to take them home for himself, they were so beautiful.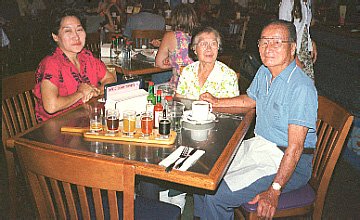 Dad stayed 10 days longer than Mom and I were able to. After they dropped us off at the airport, they went to Sam Choy's crab place for lunch (just to make us jealous). Notice that Dad just had to order the beer sampler (they have a microbrewery there). He said that the Alaskan King Crab legs he ordered were very good.
Famous chef Sam Choy is a relative of our neighbor Robin Leong, who Mom and Dad happened to see when they were in the back yard. Robin was leaving the next day for Johnston Island, where he's been working on contract for the Navy. Robin hopped over the back fences to pay a visit, just like in the old days when he and Dad were growing up.
He lives in Vallejo, California, not too far from us and he, Dad and other graduates from Kalani High School sometimes get together at Freight and Salvage or Julia Morgan in Berkeley when a slack key guitar artist or two happens to be giving a concert there.
While Dad was home, he and Aunty Carol went to several of the summer concerts at the Hawaiian Regent in Waikiki with Ledward Kaapana and his trio. They went to a couple last summer and enjoyed themselves again this year. This must be one of the best deals around because parking in their lot across the street is free with validation, there is no cover and no drink minimum. The music is always top notch, even when Ledward was sick last year and was replaced by another group we were not familiar with.
When Dad and Robin go to see Ledward in Berkeley they have to pay a lot more for the tickets so this was quite a treat. Also, sitting on an outside (but covered) patio (where the Western Museums Conference was held a just few years ago) at night, when it's 75 degrees out and there's a gentle cool breeze blowing, is a uniquely pleasant way to listen to music by one of Hawaii's most talented entertainers.
They were also lucky because Dennis Kamakahi, another well known Hawaiian entertainer, and his son (a ukulele virtuoso) happened to be sitting in the audience and performed a few cameo pieces for the crowd. Dennis's son was happy to play a classical piece on the ukulele because it gave him a chance to play Ledward's fancy electric ukulele.
---
Aunty Mary continues to enjoy hula with kumu hula Michael Pili Pang on the Big Island. Her halau gives performances in Honolulu and on the mainland too.
---