---
NAOMI NEWS
---
March 12, 2014
Last year brought major changes: I returned back home after 4½ years in Paris. My parents are extremely happy that I'm back—and so am I!
I'm no longer 9 time zones away from them and half a world away (12 time zones) from our family in Hawaii—literally on the opposite side of the globe!
I'm also especially happy to be near my very dear elementary school through college friends, several of whom have returned to the Bay Area and have become new parents within the last year! It's so nice to be a new "aunty" to this adorable next generation. Of course, all of them are very cute and, not surprisingly, just as smart as their parents.
I came back last September and we were able to help Grandma celebrate her 96th birthday in Hawaii! Of course, she doesn't remember how old she is and is always amazed when we tell her—she still thinks she's in her forties, even though that would make her decades younger than her children! She's also always amazed when I tell her my age, since she thinks she's only a decade older. But if she doesn't think of herself as old, so much the better.
In Hawaii I enjoyed spending some time with my aunties, uncles, cousins and my cousin's adorable, intelligent and so hospitable daughter Ashlyn. She was always very willing to take you by the hand and show you around her house and yard.
Mom and I were also able to fly to Seattle to visit Grandpa, Aunty Sarah and adorable cousin Ainsley. It's so nice to have so many adorable young relatives.

---
January 12, 2013
I hope you all had a wonderful festive season—I miss you all and wish you nothing but the best for 2013! Somehow two months have slipped by without an update—here's what I've been up to.
Things I did towards the end of 2012:
Celebrated

Thanksgiving

with my office. This year's amazing feast included two turkeys, three pies, two Spanish tortillas, Brussels sprouts, green beans, cranberry sauce, scones, Italian beignets, and cases and cases of wine. Despite this being our office's second annual thanksgiving feast, the French still seem a little hazy on the concept of a potluck; contributions from our native contingent included baguettes, a tin of foie gras, and something on the signup list that—I swear to god—said "sluts." Vive la France.

Caught up with my friend

Karen

whom I worked with in Honolulu, passing through Paris on a whirlwind first trip to Europe. I love seeing local people in foreign places, because they are forever local.

Spent

Christmas

in a town called Leighton Buzzard, about an hour north of London (and yes, as you may have guessed, there is indeed someone named Leighton "Buzzard" Kanoho living in Waipahu). After caroling and midnight mass the night before, we tucked into an insane spread of turkey, gravy, Brussels sprouts, cranberry sauce…It was Thanksgiving, with paper hats and Christmas pudding. Then we all settled in to watch the queen's address and the Downton Abbey Christmas special (season 3. I live in the future).

Saw signs in

Welsh

in Shrewsbury in Shropshire, where I spent Boxing Day. Random fact: the world's longest station name is Llanfairpwllgwyngyllgogerychwyrndrobwllllantysiliogogogoc.

Went to see

Wicked

in London, which was amazing—but it does always throw me off to hear lyrics I know so well sung in a British accent ("You're gonna be populah.") And why does the wizard sound like Yosemite Sam?

Flew down to

Porto

, Portugal, where I visited Rem Koolhaas' Casa da Musica (not his best) and then went on a tour of the port wine cellars along the river!

Popped over to

Coimbra

, in central Portugal to spend New Year's Eve with some friends from Paris. It's an ancient, beautiful university town where students swish around crumbling gilded libraries in black capes. I glutted myself on pastries (such as the pastel de nata, familiar to any dim sum lover), went to a fado concert, and stole a yellow tile from Alvaro Siza's Portuguese Pavilion (it was broken!). I have also decided to wear a cape from now on for all special occasions. Such as Mondays.

Headed down to

Lisbon

, a city that felt almost uncannily like San Francisco (hills, cable cars, and a copy of the Golden Gate Bridge!). With my new friends from Coimbra (all of whom are named Ines and Jose), I tried ginja (a sour cherry liqueur sold in tiny single-purpose shops), capile (a sort of cherry soda sold at street kiosks), and five thousand kinds of fish served out of the can. Then we went to a really hip bar that used to be a brothel. I absolutely loved Lisbon—can't wait to go back!

Met my colleague Bob's 6-week-old son

Henry

, who is about as tall as I was at age 12.
Things I'm looking forward to towards the beginning of 2013:
Going to the

Opera Garnier

to see Englebert Humperdinck's Hansel and Gretel—an opera that I watched over and over again as a child despite the fact that it's entirely in German.

Finishing up a few long-standing projects, including the surfer village on which construction has already begun.

Ushering in the

hot cheese

season with raclette and baked mont d'or!

Waiting for the first crush of tourists to dissipate so I can hit the

soldes

in relative tranquility.
Useless URLs:
After talking to Ines and Jose and Jose and Ines about their country's economic condition, this flash mob in a Spanish unemployment office struck a chord. Then check out this pictures from the census at the London zoo! Also: literature/hip hop buff? Jay-Z or Gatsby.
---
December 26, 2012
Mom and Dad celebrated Christmas Day with two delicious live crabs from Tokyo Fish Market (although they managed to finish only one, leaving the second for another nice meal for Dad), nice green salad, sourdough bread, artichokes, a nice bottle of Bonny Doon Sparkling Moscato and another nice sparkling wine.
To complement the Houdini corkscrew Mom gave Dad for his birthday (below), she gave him bottles of Field Stone 2010 Anderson Valley merlot, which is owned and managed by father and son alumni from my old alma mater, Stanford University—very, very cool!
---
December 12, 2012
Mom helped Dad celebrate his birthday with another fabulous dinner at Limón Peruvian Rotisserie, one of their favorite restaurants.

Mom surprised Dad with a very nice Metrokane Houdini 5-piece wine corkscrew set, which Dad put to immediate use, and which has now quickly become his favorite home corkscrew.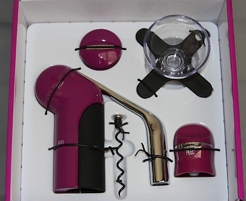 Items shown in the boxed set above are, clockwise from upper left, foil cutter, aerator funnel, bottle stopper, and the Houdini lever-action corkscrew, with a spare spiral screw in the middle between the lever and main body—the instructions say that the spiral is to be replaced after 800–1,000 uses. Should Dad live long enough to need the replacement, he's sure by then to be a very happy, very satisfied user—more commonly known as an undisputable confirmed wino! 1,000 bottles of wine—wow, hard to imagine!

---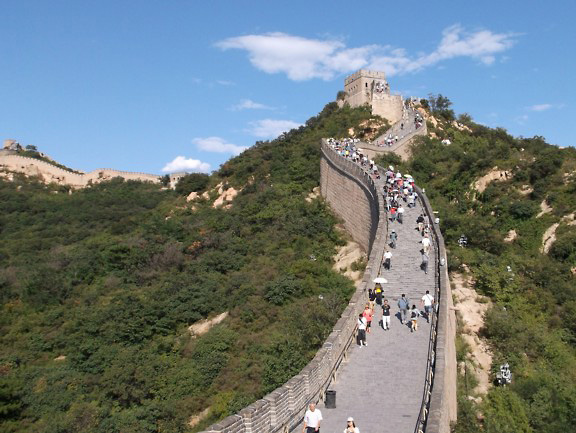 At the Great Wall—In September, Aunty Mary and Uncle Michael took their first trip to China on a tour with our longtime family friends the Miyashitas.

They enjoyed a wonderful experience, visiting many famous and interesting places, including the Great Wall and the terra cotta warriors in Xian.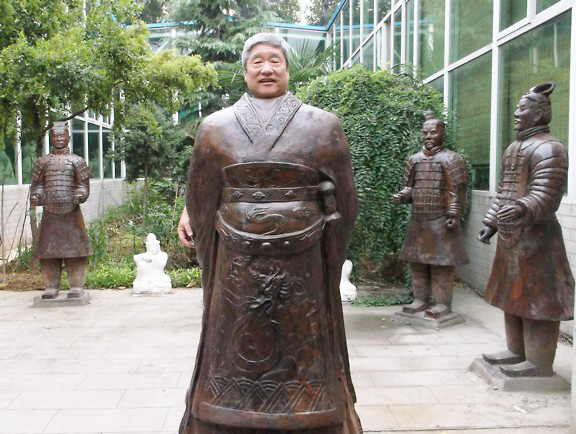 Uncle Michael as a terra cotta warrior. Here's an interesting LiveScience article about the warriors.

The Miyashitas were so impressed that they ordered some terra cotta warriors to be shipped home to them in Hawai'i. We're all looking forward to seeing them installed at the house when they're in place. The last we heard, they had arrived in L.A. but were held up by a shipping strike.
---
---
February 11, 2012
Dad drove up to Sacramento today with his former museum colleague Nora to attend the Bat Mitzvah of Mira, the daughter of another former colleague, Wendi.
It took place at Congregation B'nai Israel, the

first

congregationally owned synagogue west of the Mississippi, dating back to

1852!

Dad wasn't previously aware of its significance and was very impressed to learn about its rich history.
We've known Wendi since before she got married and had Mira. Coincidentally—even strangely—Wendi, Nora and Dad made up the Education Department at the Blackhawk Museum and, although they didn't know each other previously, they all turned out to live within minutes of each other in the Berkeley/Albany area—and the only ones who didn't live near the Museum. In fact, it turned out that Wendi lived only a block away from Dad…and on the same street! How weird is that!
Two months ago, Mira and Wendi drove down to San Francisco to attend Mira's friend's Bat Mitzvah. Wendi and Dad arranged to get together at Chilango, one of our favorite Mexican restaurants. Although they originally thought that considerable travel (by car and

BART

/Muni) would be involved in order to meet at this slightly out-of-the-way location—but that the good food would make the effort worthwhile—it turned out that it was only a

block away

from where the Bat Mitzvah dinner dance was being held and the car was parked! Another very, very weird coincidence.

Just before he was ready to leave for the City on

BART

(Bay Area Rapid Transit), Dad talked to Wendi by cellphone and wondered why Wendi's description of her parking-lot location sounded so strangely familiar.

Perhaps they're forever destined to have some sort of spooky Rod Serling "

The Twilight Zone

" block-away connection in future meetings.



Dad said it was wonderful to see how Mira has grown into a beautiful, capable and confident young woman, much thanks to her parents.
He couldn't help but think back to my own Bat Mitzvah, which now seems so very long ago. Wendi and Nora attended and seem to remember more about it than Dad does. Maybe he was just in a fog the whole day.



Last weekend in Hawai'i, Grandma's side of the family held their annual Chinese New Year luncheon…at a Korean barbeque buffet. Not exactly in the

Chinese tradition

but, in the "

Hawai'i tradition

," if the food is good, nevah mind! The first local requirement has always been that the food be good and generous!
On Monday, Grandma, Aunty Mary and Uncle Michael helped Aunty Carol celebrate her birthday at an Italian restaurant in Manoa. They said it was very good and served such ample portions that they went home with leftovers.
---
February 5, 2012
JANUARY NEWSLETTER

. Well, it's been a quiet month in Lake Woebegone—lots of work and life maintenance after the holidays. Also, it's been intensely cold. So this newsletter could also be called, "indoor activities for the winter-shy."
Things I did in January:
Won a

raclette

set in my office gift exchange! Or, depending how you look at it,

stole

it from my colleague in exchange for a piggy bank shaped like a cassette tape. For those of you unfamiliar with raclette, it's melted cheese on a grill, poured over various other foods to distract you from the fact that you're eating melted cheese for dinner. It is heaven. And thus totally worth alienating any number of work colleagues.



Uncle Michael asked how the device works and what kind of cheese is used, since he hadn't heard about it before I was introduced to it shortly after I arrived in Paris. It's so popular that there is actually a cheese called

raclette

and every winter, fromageries all have big grills outside on the sidewalk. You can buy the melty raclette cheese to eat with a demi baguette.

Yum!



The top surface acts as a grill for a variety of meats or vegetables and the little pans (two on top of the grill in the picture) are used to hold the cheese. The pans are placed under the top grill—you can see their handles sticking out the side in the photo—where the cheese is melted by the hot grill element above. (More information and history at Raclette Corner.)

[Dad's note, September 21, 2012: While we were looking around the kitchen and cooking store Complete Kitchen at Ward Warehouse in Honolulu, Naomi showed me that they indeed had on display and were actively selling a raclette grill in Hawai'i.]

Finally got my French health insurance in order. After learning that I get 300 euros per year to spend on glasses (

EVERY YEAR!

Every! Year!

), I went out and got myself a pair of Gucci architect glasses and switched on my webcam…




Watched lots of

Downton Abbey

and resisted the urge to drop Dowager Countess-isms into conversation. In particular, I've been hoping for the opportunity to remark that, in moments such as these, you can normally find an Italian who isn't too picky.

SO TRUE.



Dad found an interesting article (RTF text file here) about the "real Downton Abbey."

Went to the Chinese New Year's parade (see the January 29 entry below) in the 13th arrondissement, Paris' biggest Chinatown. As we did last year, some friends and I shivered our way halfheartedly through the parade before plopping ourselves down at the Imperial Hot Pot Palace for the next two or three hours. Dozens of dishes later, we roll ourselves over to the Chinese hypermarches (think: Chinese Costco) to stock up on ramen and sriracha and nori, so that we should not be deprived of makizushi during the apocalypse.

Things I'm looking forward to in February:
Catching up with Scarlet Fire (the house where we lived when at Stanford) alumna Kristen Primus, who, I recently learned, is in Paris working on her dissertation. (See Friends > A scrapbook of Stanford friends.)

Preparing for my mom's visit in early March. We already have a rather ambitious agenda that includes restaurants, bakeries, day trips, and pieces of furniture that I apparently "need" for my apartment, such as a "table."

Baking, because I've learned that my oven is more effective than both of my radiators combined.

In the further pursuit of central heating, I'll be checking out the

Danser Sa Vie

exhibit at the Pompidou, and seeing all those Oscar-nominated movies that just came out in France…such as

Titanic

.
Useless URL:
Once I sent myself a reminder to deal with a "virement bancaire" (bank transfer) only to receive an alert the next day about virulent bandages. These are way worse: Damn You, Autocorrect!
---
February 2, 2012
Today is cousin Ed's 83rd birthday. Happy Birthday, Ed!
This is the cover of his first CD, released in 2007, and available on Amazon, along with his other two, including the just released

Born To Be Blue

. Take a look at his website to learn more about his music.


We're very proud to have a singer of his talents and well deserved rapidly growing fame in our family.
---
January 29, 2012
I just got back from the Paris Chinese New Year parade and our

lo-o-o-ong

Chinese lunch!…which turned into dinner.
The parade wasn't as well organized as last year but there were lots of lion dancers and Franco-Chinese associations…and lots of firecrackers, of course! They probably had more firecrackers than in Hawai'i! It's a shame that Hawai'i is cutting back so much on fireworks with restrictive new laws and regulations—not like the good old days that Dad remembers so fondly.
My friends and I went to a restaurant right along the parade route. We ordered

so much

food: roast duck, ginger chicken, chow fun with black bean…and, of course,

har gao

for good luck! Or, as they call them here, "raviolis aux crevettes," i.e., raviolis with shrimp.
Won ton soup is called "soupe des raviolis au porc."

Manapua

(or char siu bao) is "brioche au porc." Ong choy is "liseron."
We have several Portuguese interns and staff in the office now and they eat a pastry exactly like

dan tat

(custard tart). Dad and I wonder how much the world's cuisines were influenced by the early Portuguese explorations worldwide but especially in Asia, particularly Macao.

Ong choy

(Chinese spinach) with

harm ha

(fermented shrimp sauce) is easily available in Paris, surprisingly. Harm ha is called something like "sauce des poissons fume," or "stinky fish sauce," which is a pretty accurate description.
Dad suggests that someone should create a food dictionary app that tourists could use to know what they're ordering and enjoying wherever and whatever they're eating around the world. The literal translations might even be a constant source of amusement.


Mom is visiting Grandpa in Seattle this weekend. She's still not fully recovered from her trip to Indonesia.



Dad watched the Pro Bowl from Aloha Stadium in Honolulu tonight. It brought back fond memories from the '50s, when Grandpa was a member of the Hula Bowl committee planning the Hula Bowl, in the days when the pros played against the college all-stars in the

OLD

stadium—the original "termite palace" at King and Isenberg. The photo below is from the old 1996 Star Bulletin article.



Grandpa, Dad and Uncle Michael enjoyed watching many "stock car" races there. The star driver was Jerry Unser, who unfortunately died in a crash at the Indianapolis 500 in 1958. His brothers, Al and Bobby Unser, and his nephew Al, Jr., went on to achieve racing fame, all winning the 500.

Dad's neighbors across the street, the family of his primary school playmate, knew Unser and he used to visit them in Kuliouou.

Dad had a chance to meet the Hula Bowl college and pro stars…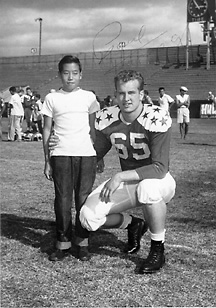 …such as Elroy "Crazy Legs" Hirsch and Paul Hornung. Hirsch was a running back for the Los Angeles Rams (decades before they moved to St. Louis). He had such a loyal following that he played himself in a 1953 movie, "Crazy Legs." He caught a long touchdown pass during the Hula Bowl and simply outran everybody with his unique egg-beater-legs running style, thrilling the crowd and bringing everyone to their feet with a standing ovation. Dad still remembers it clearly—as well as the movie!—after more than 55 years!
Hornung won the 1956 Heisman Trophy while at Notre Dame and went on to play for the Green Bay Packers. The dark (red) jersey with the (blue) stars on the shoulders shows he was playing as a college all-star (and most likely the same year of his Heisman). Hirsch wore the white game jersey representing the pros.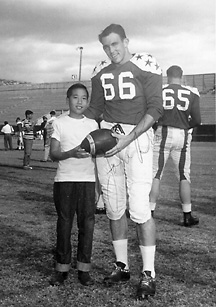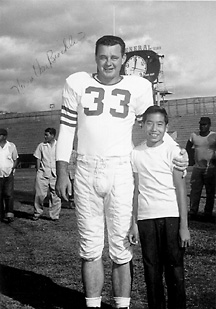 The stars included John Brodie and Norm Van Brocklin. Brodie grew up in the Bay Area, was a Stanford All-American and a 49er quarterback. In 1965, he led the league in passing (3,112 yards) and passing touchdowns (30). Van Brocklin played for the Rams (along with Hirsch) and later the Eagles.
The autographed photos above were taken by the official Hula Bowl photographer with a Speed Graphic press camera on 4"x5" sheet film. It was quite a production in those days! To think that it could be done instantly now with an iPhone pulled out of his (or anyone's) pocket and an inexpensive inkjet printer—and in color to boot!—shows how very far technology has progressed!
Of course, I've never heard of any of them but, for Dad's generation, they were the football stars of their day who

everyone

knew.
---
December 25, 2011: Christmas Day, 6th night of Hanukkah
Mom and Dad enjoyed a wonderful meal with our extended family at Mom's longtime friend Sheila's, who we've known since Mom and she were both pregnant with Gamila (Gammy) and me in 1981, while they were both working together at a law-book publishing company in San Francisco. Gammy and I are only months apart in age (see "Baby pictures > 2") and were both extremely adorable—and, of course, still are…even more so, in fact!
Sheila has recently moved back to the Bay Area from New Mexico, after retiring and moving there a few years ago.
Sheila outdid herself, serving quite a spectacular meal with lots of accompanying good wine (both sparkling, still, red and white), very warm company and convivial conversation.
Dinner included a spectacular capon (not a commonly available item in California), a perfectly done whole beef filet, sausage stuffing, ziti pasta (Simon's favorite), green beans (for which Sheila kept apologising but about which no one else seemed to have any complaints), her

famous, award-winning

"

4 P

's and a

C

salad"—

P

ersimmon (the firm Fuyu type), Asian

P

ear ("apple-pear"),

P

omegranate,

P

arsley and

C

elery—which we have enjoyed many times at our house since being introduced to it by Sheila years ago—dinner rolls, and more.
Mom and Nick brought trays of homemade cookies for dessert and Sheila's neighbor made a delicious fruit tart (with more wine and fresh-brewed coffee).
Mom and Dad went home pleasantly stuffed and happy that they were able to spend such a pleasant holiday with "family."
---
September 14, 2011
I'm back in Paris after a wonderful visit home to the Bay Area and Hawai'i in August to celebrate Grandma's 94th(!) birthday. She's always amazed every time we tell her she's 94! She likes to believe she's still "70-something"…and that's a good thing, if you're only as old as you feel—or believe you are!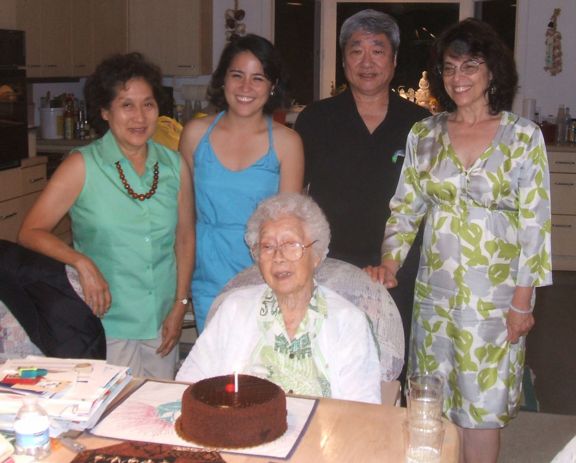 Cousins Barbara and Michael invited us (including Grandma and Aunty Carol) to their house to celebrate Shabbat with some of their friends, Sara and her friends.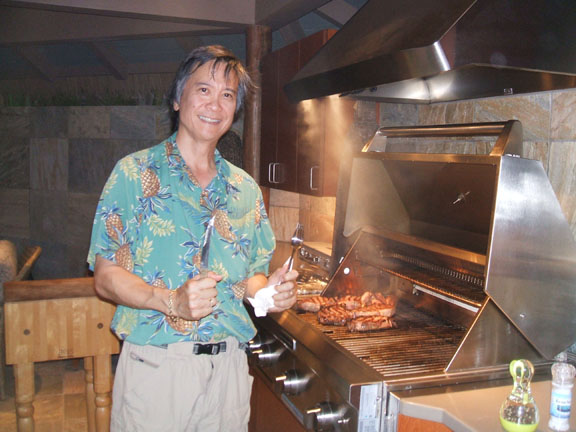 Here's Michael barbequeing for Dad, Grandma, Aunty Carol and Uncle Michael in their beautiful, fully equipped outdoor cabana not long after they remodeled their house a couple of years ago. On that occasion, the steaks were perfectly done and very ono (delicious). This year, the chicken and grilled veggies were up to the same ono standards.

The following week I was glad I was able to see the house in Kailua that Sara recently bought.
Michael is a talented guitarist. Last year we enjoyed hearing his music at the KCC Farmer's Market.
Last year, we made it to Makapu'u to dip our feet in the water. This year, we only made it to Sandy Beach to get our feet wet. Although we always have too little time, we did a lot and, as always, thoroughly enjoyed our visit, visiting friends and relatives and enjoying way too much good food.
---
August 8, 2011
Today, Dad talked to my gorgeous and adorable cousin Dominique, via Skype instant messaging, who is currently studying abroad for several weeks in Peru. We fondly remember seeing her in Hawai'i in 2007, when she was living there (see Dobis > Dobis > Cousin Dominique).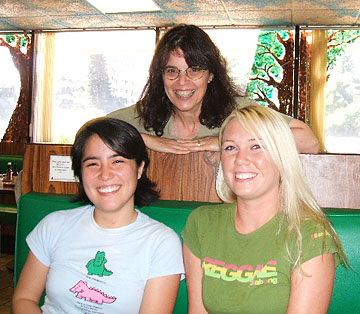 Here we are enjoying lunch at the Hungry Lion, which has since closed.
Yes, we're really cousins—can't you tell by the family resemblance (notice the identical smiles)?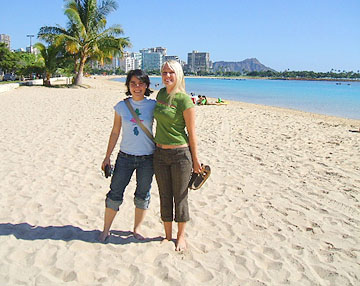 Here we are on the beach at Ala Moana (with Diamond Head in the background).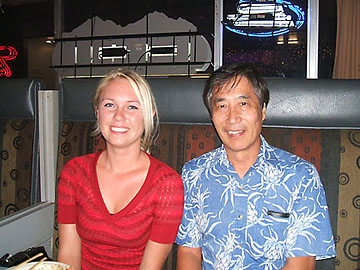 She and Dad enjoyed dinner with cousin Jim (taking the picture) at the original Side Street Inn near Ala Moana Center after Mom and I left for home. Since I'm in Paris and Dominique has a French name, I'm hoping she'll be able to visit me sometime while I'm here. I'm sure we could have a lot of fun.
---
August 3, 2011
A week ago, I enjoyed a visit from my friends Charlene and Alison. I've known Charlene since high school and Alison was at Harvard Law School with Charlene and my Harvard roommate, also named Alison. We had fun at the Louvre…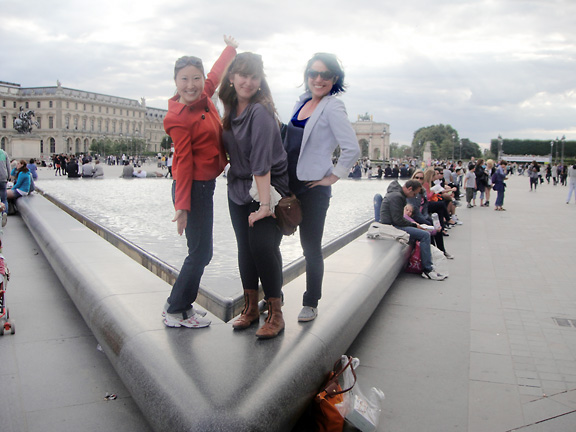 …and along the Tuileries, which basically runs from the Louvre to the Place de la Concorde and then to the Champs Élysées.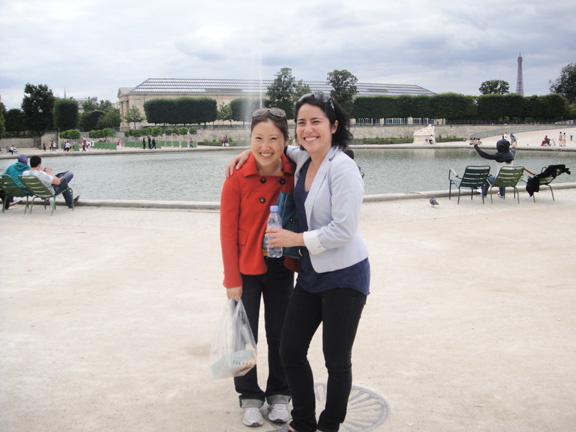 ---
May 16, 2011
I arrived in Casablanca late last night. The exhibition (see below) opens here on Thursday—very exciting.

I'm also still working on a 1,500-unit social-housing unit here—lots of work and responsibility.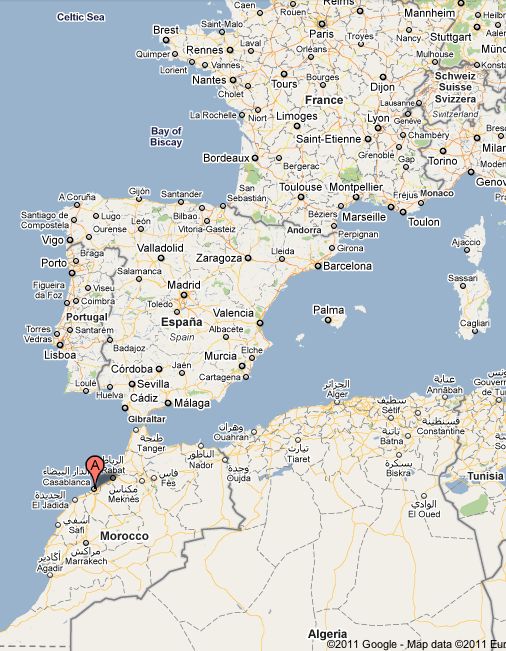 ---
April 25, 2011
Dad read an interesting article about Obama's birth and the fact that the house he went home to just after being born at Kapiolani Hospital is just down the road from where Grandma and Aunty Carol live in Kuliouou Valley. (We have already known this for years but it's nice to see the information published more widely in an Associated Press news article.)

Here's the article: Obama's birth.

It's interesting that Obama has recently released his "long-form" birth certificate, whereas the article specifies that the long-form certificate is "never released." As President, Obama was able to obtain a special exemption—an official waiver—to the rule, in order to obtain a copy to make public just to satisfy the birthers.

Here's an article mentioning the official waiver that had to be obtained before the long form could be released. And here's another, which says, "…the White House produced a copy of his detailed Hawaii birth certificate Wednesday after obtaining a special waiver from the state to make it public."
Here is a map showing where Obama's infant home is located relative to Grandma's house—which is at the "d" in "Elelupe Rd," just below the bend in the road, literally a block away.
Here is a Google Street View of the house, which Grandma and Aunty Carol go by every time they come home from town.
The poor people who live there now have had to build a wall and install a metal gate to discourage curious tourists from walking around in their yard and bothering them by knocking on their door.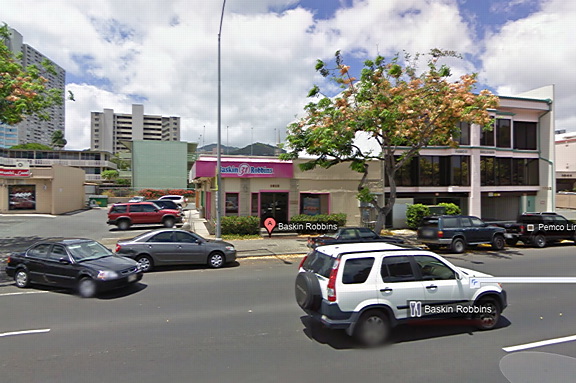 There are "Obama Tours" that drive by this residence, as well as other sites connected to his childhood, such as this Baskin Robbins on King Street where he worked.
Dad sent the article to a former neighbor, who used to live right next door in Kuliouou but now lives in Oregon, and this is her response:

Thanks for including me on this. Our newspaper, The Oregonian, ran this AP story on Saturday. But it didn't include the part with the address. Interesting that they lived so close to us. My sister Juliet was born 4 days later, and she and Obama were in the same class at Punahou.

It's great to be back in touch, just a little, with the Sakamotos, after all these years.

Aloha,
Beth

Beth was Aunty Mary's age and Beth's brother Chris was Dad's age so Chris and Dad grew up together—they played together and with other neighbors nearly every day when they were young.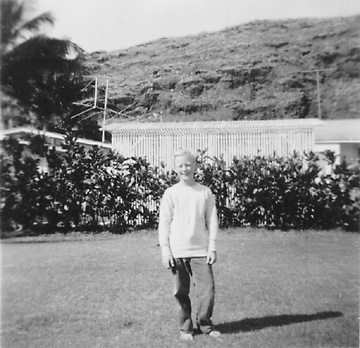 Aunty Mary and Beth got back in touch about a year ago and, through Beth, Dad is back in touch with Chris, who now lives in L.A.

Dad took the picture above with a "Roy Rogers" box camera, which he thought was pretty hot stuff in those days.
---
April 22, 2011
I was just in Casablanca yesterday, meeting with a client about a 1,500-unit social-housing project, as well as checking out the venue there for our traveling exhibition.

About this time last year I was working very hard, almost 24/7, it seemed, on an exhibition of the major projects that my architecture firm Kilo has done. The exhibition showed in Paris and will travel to Casablanca soon and New York, among other venues.
These are two photos my Mom took when she came to visit me during the exhibition's opening last year.