March 12, 2014
Last year brought major changes: I returned back home after 4½ years in Paris. My parents are extremely happy that I'm back—and so am I!
I'm no longer 9 time zones away from them and half a world away (12 time zones) from our family in Hawaii—literally on the opposite side of the globe!
I'm also especially happy to be near my very dear elementary school through college friends, several of whom have returned to the Bay Area and have become new parents within the last year! It's so nice to be a new "aunty" to this adorable next generation. Of course, all of them are very cute and, not surprisingly, just as smart as their parents.
I came back last September and we were able to help Grandma celebrate her 96th birthday in Hawaii! Of course, she doesn't remember how old she is and is always amazed when we tell her—she still thinks she's in her forties, even though that would make her decades younger than her children! She's also always amazed when I tell her my age, since she thinks she's only a decade older. But if she doesn't think of herself as old, so much the better.
In Hawaii I enjoyed spending some time with my aunties, uncles, cousins and my cousin's adorable, intelligent and so hospitable daughter Ashlyn. She was always very willing to take you by the hand and show you around her house and yard.
Mom and I were also able to fly to Seattle to visit Grandpa, Aunty Sarah and adorable cousin Ainsley. It's so nice to have so many adorable young relatives.

---
January 12, 2013
I hope you all had a wonderful festive season—I miss you all and wish you nothing but the best for 2013! Somehow two months have slipped by without an update—here's what I've been up to.
Things I did towards the end of 2012:
Celebrated

Thanksgiving

with my office. This year's amazing feast included two turkeys, three pies, two Spanish tortillas, Brussels sprouts, green beans, cranberry sauce, scones, Italian beignets, and cases and cases of wine. Despite this being our office's second annual thanksgiving feast, the French still seem a little hazy on the concept of a potluck; contributions from our native contingent included baguettes, a tin of foie gras, and something on the signup list that—I swear to god—said "sluts." Vive la France.

Caught up with my friend

Karen

whom I worked with in Honolulu, passing through Paris on a whirlwind first trip to Europe. I love seeing local people in foreign places, because they are forever local.

Spent

Christmas

in a town called Leighton Buzzard, about an hour north of London (and yes, as you may have guessed, there is indeed someone named Leighton "Buzzard" Kanoho living in Waipahu). After caroling and midnight mass the night before, we tucked into an insane spread of turkey, gravy, Brussels sprouts, cranberry sauce…It was Thanksgiving, with paper hats and Christmas pudding. Then we all settled in to watch the queen's address and the Downton Abbey Christmas special (season 3. I live in the future).

Saw signs in

Welsh

in Shrewsbury in Shropshire, where I spent Boxing Day. Random fact: the world's longest station name is Llanfairpwllgwyngyllgogerychwyrndrobwllllantysiliogogogoc.

Went to see

Wicked

in London, which was amazing—but it does always throw me off to hear lyrics I know so well sung in a British accent ("You're gonna be populah.") And why does the wizard sound like Yosemite Sam?

Flew down to

Porto

, Portugal, where I visited Rem Koolhaas' Casa da Musica (not his best) and then went on a tour of the port wine cellars along the river!

Popped over to

Coimbra

, in central Portugal to spend New Year's Eve with some friends from Paris. It's an ancient, beautiful university town where students swish around crumbling gilded libraries in black capes. I glutted myself on pastries (such as the pastel de nata, familiar to any dim sum lover), went to a fado concert, and stole a yellow tile from Alvaro Siza's Portuguese Pavilion (it was broken!). I have also decided to wear a cape from now on for all special occasions. Such as Mondays.

Headed down to

Lisbon

, a city that felt almost uncannily like San Francisco (hills, cable cars, and a copy of the Golden Gate Bridge!). With my new friends from Coimbra (all of whom are named Ines and Jose), I tried ginja (a sour cherry liqueur sold in tiny single-purpose shops), capile (a sort of cherry soda sold at street kiosks), and five thousand kinds of fish served out of the can. Then we went to a really hip bar that used to be a brothel. I absolutely loved Lisbon—can't wait to go back!

Met my colleague Bob's 6-week-old son

Henry

, who is about as tall as I was at age 12.
Things I'm looking forward to towards the beginning of 2013:
Going to the

Opera Garnier

to see Englebert Humperdinck's Hansel and Gretel—an opera that I watched over and over again as a child despite the fact that it's entirely in German.

Finishing up a few long-standing projects, including the surfer village on which construction has already begun.

Ushering in the

hot cheese

season with raclette and baked mont d'or!

Waiting for the first crush of tourists to dissipate so I can hit the

soldes

in relative tranquility.
Useless URLs:
After talking to Ines and Jose and Jose and Ines about their country's economic condition, this flash mob in a Spanish unemployment office struck a chord. Then check out this pictures from the census at the London zoo! Also: literature/hip hop buff? Jay-Z or Gatsby.
---
December 26, 2012
Mom and Dad celebrated Christmas Day with two delicious live crabs from Tokyo Fish Market (although they managed to finish only one, leaving the second for another nice meal for Dad), nice green salad, sourdough bread, artichokes, a nice bottle of Bonny Doon Sparkling Moscato and another nice sparkling wine.
To complement the Houdini corkscrew Mom gave Dad for his birthday (below), she gave him bottles of Field Stone 2010 Anderson Valley merlot, which is owned and managed by father and son alumni from my old alma mater, Stanford University—very, very cool!
---
December 12, 2012
Mom helped Dad celebrate his birthday with another fabulous dinner at Limón Peruvian Rotisserie, one of their favorite restaurants.

Mom surprised Dad with a very nice Metrokane Houdini 5-piece wine corkscrew set, which Dad put to immediate use, and which has now quickly become his favorite home corkscrew.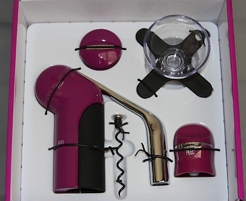 Items shown in the boxed set above are, clockwise from upper left, foil cutter, aerator funnel, bottle stopper, and the Houdini lever-action corkscrew, with a spare spiral screw in the middle between the lever and main body—the instructions say that the spiral is to be replaced after 800–1,000 uses. Should Dad live long enough to need the replacement, he's sure by then to be a very happy, very satisfied user—more commonly known as an undisputable confirmed wino! 1,000 bottles of wine—wow, hard to imagine!

---