November 5, 2012
I hope those of you on the eastern seaboard and all of your friends and family are safe and warm, and perhaps even bored enough to read what I've been up to this month. If not, file this away until Downton Abbey goes on hiatus.
Things I did in October:
Enjoyed a quick weekend visit from

Charlene

—just long enough to melt into chocolate mousse at Chez Janou and ensconce ourselves in eclaires at Jacques Genin.

Got settled into my

new office

, during which time my hot pink tool kit was in hot demand. Take that, haters!

Threw my colleague Bob and his wife Sarah a

baby shower

, hosted by Sarah's best friend, a South African chemical engineer who is

UNESCO

's resident expert of anglo-irish pubs. We got along just fine. After a few false starts in gift selection, the Kilo crew settled on a 2011 bottle of the Clos de Montmartre, the product of Paris's only operational vineyard, for their son to open on his 18th birthday. Or for the parents to crack when the baby won't stop crying.

Wrote a draft of an

article

proposing an alternative model for architectural education, which one of the main architecture websites may be interested in publishing as an editorial.

Went to the

Pitchfork Music Festival

which is always so much fun! The programme was fantastic, though disrupted too frequently by really irritating people—and I got a really nice tote bag that will give me some serious hipster cred. And so in that sense, this less like Woodstock than a public radio pledge drive. On repeat since Pitchfork: the Tallest Man on Earth, Robyn, James Blake, and Macklemore (who did not play at the festival but whom I've been listening to all month). I had almost as much fun outside the concert eating hot dogs, playing in the photo booth (the french

LOVE

photo booths), and bobbing around the outdoor jukebox with all the other people who couldn't figure out how to dance to Animal Collective.


VOTED

. And bored the socks off all my international colleagues by talking of nothing but American politics all month. Except when I was talking of nothing but Pitchfork. Or when I was talking of nothing but Downton Abbey. I'm very popular at work.
Things I'm looking forward to in November:
Checking the FiveThirtyEight blog every thirty seconds between now and tomorrow, and trying to stay awake until Ohio tells me it's safe to go to sleep.

Heading back to

Morocco

—this time to Rabat—for a workshop with the engineers on the surfer village, a project that went out to bid last month.


Thanksgiving!

Every American in my office waxes poetic about Thanksgiving, and none of the Europeans can understand why. I'm pretty sure we can convince them if we just make more food…
USEFUL URL:
I'm going to print this out and color it in as we go: Paths to the White House. And I know I don't have to tell anyone on this list, but please vote, and make sure everyone you know votes too. And if anyone you know is still undecided, I suppose this poll would be unlikely to sway them. Especially if they live in Pakistan. But you never know.
---
October 1, 2012
Things I did in September:
Had lunch with

Claire

and her husband Raf, in France for their honeymoon! I realized I hadn't seen Claire since 2008, when she was in Cambridge for business school admit weekend. So we had a lot of catching up to do on the last four years, and a lot of reminiscing about the four before that. Congratulations to the newlyweds!

Caught up with my friend

Diane

and her fiancé John, who popped over from Indonesia to see me. Also they were going to a friend's wedding in the Loire Valley or something.

Went to

London

to chaperone—er, accompany—Diane and John, who had planned to be there for the weekend. When some visa problems unexpectedly detained them in Paris, I decided to be a loyal friend and go to London without them. In between sipping champagne at the top of the Gherkin, seeing the incredible Heatherwick Studios exhibit at the V&A, and rolling down the hill at the Alexandra Palace (twice!), I missed them terribly.

After a great dinner at Au Boeuf Couronne, I attended

Yom Kippur

services with my cousins from Hawaii, the Fischlowitz-Leongs (click on the

Dobis

button at left). It was apparently quite a change from their shul in Honolulu—but be it Paris or Polynesia, the rabbi can never carry a tune, everyone grumbles about the new cantor, and half the congregation tries to sneak out during the sermon. My mom also introduced me to the website of the Central Synagogue in New York, which webcasts all their services and whose cantor is the first Asian-American to be ordained as a cantor or a rabbi in North America. There goes my chance at fame!

Started

Arabic

classes through the City of Paris. Well, to be more specific, the Arabic classes in which I enrolled have started. The first day of classes fell on Erev Yom Kippur, which I'm sure greatly diminished the Arabic school turnout.
Things I'm looking forward to in October:
As of tomorrow, our office is

relocating

a few blocks farther west, from the edge of the 3rd arrondissement to the very tip of the 2nd, or, as my boss says, "from BoBo to Hobo." While we'll be a few blocks farther from Paris's oldest Chinatown, we'll now be within tripping distance of two pubs that serve real beer, one of which serves hot dogs! The latter is a Scottish pub called The Thistle—a word which, it turns out, Spaniards can pronounce, but I cannot. I shall henceforth refer to it as The Scottish Play.

Trying to convince The Thithle to broadcast the

Presidential debate

.

A quick visit from

Charlene

, who will be here just long enough to enjoy a great dinner and explain to me more about how French people are descended from Albanians. And, as her trip happens to coincide with Nuit Blanche, the city of Paris's all-night art and culture festival, we might have to do some late-night rambling…Can't wait to see her!

Planning my friend Bob's

baby shower!

We've already found this future hipster the perfect baby gift .

Going to the

Pitchfork Music Festival

at the Parc de la Villette! This year's lineup includes M83, Animal Collective, James Blake, the Walkmen, Grizzly Bear, How to Dress Well, and several other bands named after animals.
Useless URLs:
---
August newsletter
You may (or may not) have noticed that I skipped a July issue, in part because I did very little of any interest and in part because I could tell most of you in person!
Some things change:
my mother's house: she recently added an upstairs bathroom to her house, banishing forever the days of 2am downstairs stumbles!

the San Francisco skyline. Where am I? And what are these buildings? Is NOPA a place or a type of cactus? Also: I don't remember this many people having experimental facial hair. Yes, women too.
Some things stay the same:
my friends are still the most brilliant, gorgeous, ridiculous people on the planet (including those I was not lucky enough to see this trip!)

Americans are still more likely to be seen wearing pajamas in public than French are to be seen without mascara. Yes, men too.

San Francisco is still the most beautiful city in the world, and Hawaii the most beautiful landscape.

mother-daughter pedicures at the Iranian salon in West Portal

shopping at Westfield Center. Coffee! English! Malls! People wearing pajamas!

a fabulous evening with the girls, the boys, a very fluffy dog, and a very fat cat.

a night out with a bunch of drunken Irishmen in a bar filled with college students. People wearing pajamas!

a stroll through the Ferry Building, Jackson Square, North Beach, and Chinatown. Can't help but think of the Herb Caen quote: "one day, if I go to heaven…I'll look around and say, 'It ain't bad, but it ain't San Francisco.'"
The East Bay
a long walk on a beautiful day through Albany and Berkeley, past the old public library, the old pumpkin patch, and lots of other places I remember being much bigger.

Mexican dinner in Richmond with an elementary school classmate, who, despite being a 30-year-old industrial designer, in my mind will always be a blond six-year-old obsessed with bugs.
Seattle
a tour of three of Tom Douglas's Seattle restaurants, including Dahlia Lounge, Serious Pie, and Lola. Yum!

a trip to the Seattle Public Library with my grandpa, the former self-proclaimed "Loudest Librarian in Los Angeles County." Hats off to Rem: that is one remarkable building.

a tour of the Theo chocolate factory, where I was pursued by French people. I can only assume they were there to protest.
The South Bay
grilling vegetables, playing guitar and a game of exquisite corpse.

strolling across the Stanford Campus to Lambda Nu, where we gave thanks that Facebook didn't exist in college and wondered what those small children were doing wearing Stanford sweatshirts and pajama bottoms and drinking from a keg of Natty Lite. Where are their mothers?

remembering how beautiful Stanford is. It is surreal. That place makes Disneyland look like the RER platform at Gare du Nord.
Honolulu
poi supper, zaru soba, dim sum, and shave ice.

a drive up toward the windward side, where we put our feet in the water at Sandy Beach and saw some mountain goats hanging out on the sheer cliff face. The water on that side of the island is the bluest blue you could possibly imagine. Also, we stopped at Costco and Dad and I got a hot dog (Mom got a sandwich at the nearby Balé).

my grandmother's 95th birthday party with the entire Chinese side of the family.

bon dance in Kapahulu where my cousin was working the concession stand. Note to future visitors: make sure you have a cousin working the concession stand.

a trip to Bishop Museum, where a kanikapila (Hawaiian jam session) was underway and several Australian tourists were very confused. Also, a very interesting exhibition of Japanese plantation-worker stories and vintage clothing.
---
July 4, 2012: Independence Day and Grandpa's birthday—the "birthday of a great American," as he was fond of saying
Things I did in June: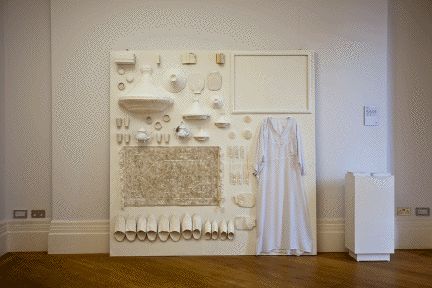 Installed our exhibit

HOME

at the Mosaic Rooms in London. For those of you hoping to recreate this installation at home, here are a few easy steps to follow:


Procure the following objects from your local Moroccan supermarket: 6 pairs of babouches (slippers), 1 gandoura (caftan), 5 tajines of various sizes, 2 teapots, 6 teacups, 6 spice jars, 6 skewers, 4 hammam mitts, 3 hairbrushes, 1 prayer rug, 5 qur'ans, and 1 framed picture of Mecca

Prepare objects


cut one of each medium and small tajine in half using hacksaw with carbide blade.

fabricate large tajine half out of interlocking lasercut butter board frame, coated in plaster strips and finished in glossy, mildly flammable paint.

wonder how this became your job.

Select your project team. The ideal team will be composed exclusively of Asian-Americans under 5'-3".

Pack objects securely and transport to London. Explain to the customs officer that the large tajine-shaped bubble-wrapped package contains a…sculpture? When he suggests it is a sculpture of Speedy Gonzales' hat, nod sagely.

Upon arrival, go directly to the pub. Marvel at the proper beer and the cheerful service. Eat nachos.

The following morning, assemble the 2.2m x 2.2m wall on which objects will be mounted. Liberally spackle the joint between panels. Have Indian food for lunch while it dries. Wander about the gallery tidying things. Have a Pimm's for tea. Contemplate dinner. Wonder if perhaps you've been too liberal with your spackle.

Explain to the teams from Egypt, Qatar, and Iraq that you represent Morocco. Affect a slight French accent.

Carefully tilt the wall into vertical position. Realize you have it the wrong way round. Flip and rotate. Narrowly avert utter disaster. Go to the pub to discuss how you narrowly averted utter disaster.

Begin to mount objects on the wall. If no members of the team are taller than 5'-3", borrow one or more ladders from the Qataris. To mount objects, sparingly apply a few drops of silicone glue and hold firmly against the wall for several minutes. Release, and wait for object to slide slowly down the wall. Reapply glue generously, press authoritatively against the wall for several seconds, and watch object clatter to the ground. Procure a staple gun from the Egyptians and nail that bugger within an inch of its life.

Explain to the teams from Yemen, Lebanon, and Bahrain that you represent Morocco. It is too late for a French accent.

Steal back the ladder from the Yemenis. Spackle all gaps between objects and the wall, allow to dry, sand, then apply a finish coat of paint.

Have tea at the Wolesley. Drop by Neal's Yard Dairy and Mark's & Spencer's. Overdose on Reversy Percys.

Spend the next two days on a ladder 2.5 meters in the air fiddling with the damn projector while Iraqis try to steal your power drill. Do not incite international conflict.

Stay out of sight while important journalists interview your Moroccan boss. Drink wine and giggle in your typical self-possessed and professional manner.

Your

HOME

installation is now complete. Enjoy responsibly.



Played tourist with Charlene, who came to Paris to celebrate her birthday! Experienced tour guide that I am, I took her to some of Paris's most picturesque spots, such as the optometrist, the frozen foods store, and the laundromat. Between those thrilling cultural apexes (apices?) we did manage to squeeze in a concert of Mozart's Requiem at La Sainte Chapelle, a chocolate-studded brunch, a soggy jaunt around Montmartre in search of the best baguette, millions of macarons and a bevy of bistros! Oh and did I mention that at Verjus we brushed shoulders with Phillip Lim, in town for men's fashion week?

Celebrated the start of the

soldes

—government-sanctioned city-wide sales—by buying two new pairs of shoes at half price. Learned how to say "peep toe" in French.

Watched the

Euro2012

final between Spain and Italy at—where else?—an Irish bar. My allegiance being torn between my close Italian friends and the mob of irritated Spaniards who encircle my daily workspace, I decided to play it safe and cheer for Ireland. And contrary to what one may expect, when Spaniards score a goal, they do not shout

GOOOOOOOAAAAAAALLLLLLL

. I wish someone would have told me that slightly earlier.
Things I'm looking forward to in August:
Busting through a few

project deadlines

, including schematic design on the mixed-used surfing village center and design development on the office building. We're also working to arrange a permanent home for our London exhibit at the Contemporary Art Museum of Rabat.

Going to see the

Gerhard Richter

exhibition at the Pompidou and any movie whatsoever in an air-conditioned theater.

More

soldes!




Olympics!!

The opening ceremonies have been a must-watch ever since I read that 70 live sheep will be involved (no, really)

Planning my trip back

home!

My itinerary so far includes changing banks and getting my teeth cleaned. I'll be in San Francisco August 10–21 and would love to see you

ALL!
Useless URLs:
---
June 3, 2012
Things I did in May:
Things I'm looking forward to in June:
Heading back to

London

to install our exhibit at the Mosaic Rooms as part of the cultural biennale. I will definitely stop by the King's Cross transit information counter to hear all about Lavinia's Jubilee weekend, and what her mum thought of that jumper.

Speaking of biennales, we're starting work on yet another exhibition, this time for the Venice Biennale at the end of August, followed by the

Institute du Monde Arabe

here in Paris in September. I'm thrilled to have a chance to go to Venice and brush shoulders with all the famous architects whose lectures I slept through in grad school.

Seeing the

Daniel Buren Monumenta

exhibit at the Grand Palais, and the

Morisot

exhibit at the Musee Marmottan Monet.


Soldes!

The government-sanctioned city-wide sales are insane, nerve-wracking, and one of the top five reasons to live in Paris (just behind socialized health care, the grocery store Picard, and champagne in a can).
Useless URL:
I want one. But until I can have one, I will settle for watching them on Pygmy Giraffe Cam!
---
May 9, 2012
Phew, what a month!
Things I did in April:
joined my friends for Easter brunch, where, out of nowhere, their 13-month-old daughter pulled herself up from the floor and took her

first steps!



celebrated

Passover

with the traditional matzah toffee, Sephardic charoset, matzah brei, pho and stir fry.

submitted the

construction permit

for the office building in Rabat, and took on a new project for a surfing village in Agadir.

discovered a cool new pizzeria/cocktail bar whose bartender is the third best in Europe, an Argentinean empanada/helado shop that delivers, and an outlet of the south Indian vegetarian restaurant Saravana Bhavan. All we need now is a proper taqueria and a Trader Joe's, and Paris will be almost livable.

went to see the Bob Dylan exhibit at the

Cité de la Musique

, which featured Johnny Halliday singing "N'y répense plus, tout va bien" and Francoise Hardy doing "La réponse est soufflée dans le vent." The museum's incredible collection of musical instruments includes a two-story tall double bass and the 16th century precursor to the "key-tar." Dear 16th-century Vienna: the '80s thank you.

had an incredible trip to

Prague

, the city of Kafka, the Golem, and throwing people out of windows. In between an ambitious schedule of beer, pastries, and goulash, I managed to fit in a fair number of cultural events—notably, a quartet in an old palace playing Dvorak, Smetana, and Janacek; a trip to Frank Gehry's "Fred and Ginger" house; and a spin around the Alfonse Mucha Museum, where I learned how to pronounce his name. I discovered when I got back that the strangely dressed people I saw roaming the streets were not, in fact, your average offbeat Praguians, but probably were attending the zombie convention that was going on while I was there.



Fun fact

: the Czech are obsessed with a small cartoon mole who, according to Wikipedia, is the brainchild of a Czech animator who started out wanting to create a children's cartoon about the production of flax and ended up making a film called "How the Mole Got His Pants." Which is something I had always wondered about.

got back to Paris just in time to see the socialists flood the Bastille in celebration of

Francois Hollande's

victory in the presidential election.

Things I'm looking forward to in May:
heading to

London

for a long birthday weekend!

working on an installation for the Museum of Architecture in London in June, part of a cultural olympiad to precede the actual olympiad. I am told there will be many cocktail parties.
Useless URL:
A sweet short film you may have seen about a boy in East LA and his cardboard arcade: Caine's Arcade. Also, I haven't been able to stop watching this video of architect Luis Urculo's

Covers

project, where he recreates great works of architecture with household objects.
---
April 6, 2012
MARCH NEWSLETTER. Here's a quick update to get me back on schedule. And this time, I promise to get the months right.
Things I did in March:
Things I'm looking forward to in April:
Taking advantage of my friend's conference grant to spend a weekend in Prague! I've never been—any suggestions?

In addition to the Djerba and Casablanca projects, I'll also be starting work on a small office building in Rabat. It's been awhile since I've had a small project, so I'm quite excited for this opportunity to get into the building details and follow it through construction.
Random URL:
I really hope this is real, and can fly all the way to France: Tacocopter! Good, authentic, inexpensive Mexican food is one thing I miss in Paris and one of my first goals whenever I go home to the Bay Area.
---
March 26, 2012
Last week, our project was very well received in Marrakech and our model didn't break on the way over!
On Saturday I went to a festival of independant vintners. It was really cool, there were hundreds and hundreds of them all giving tastings. I found some excellent new labels that I can now look for.
I went with my friend's family friend who is very familiar with all these vintners and knows them personally. So we ended up trying some excellent wines.
Apparently these festivals are held quite frequently around Paris and we were able to talk to a lot of producers, which is always interesting. It was great, since it was free, lasts all weekend and you get a free tasting glass when you enter. It was really interesting and quite fun. I learned quite a lot too.
Our guide and a lot of others ended up buying cases and cases of wines they liked. Next time I have to remember to bring a handtruck!…but, no worries, they were even renting them there if you didn't bring one.
We started with Champagnes…and Crémants, another sparkling wine region that I had never heard of before, but which was excellent. We then moved into whites, then rosés, then reds. We ended with some excellent Margaux. We had a lot of Alsatian wines too, which were excellent, and some very good Burgundies.
Fortunately even the cheap wines here in Paris are quite good and some of the best ones we tasted at the festival were in the 15–25 euro range, so very good wines are very cheap here by American standards. A 5 euro Côte du Rhône is quite good actually.
---
March 13, 2012
FEBRUARY NEWSLETTER. I do realize it is already legitimately mid-March. But here's why I haven't written sooner:
Things I did in February:
Things I'm looking forward to in March:
Heading back to Marrakech next week to present the village, a project I've really enjoyed working on. It's been fun to jump back and forth between big ideas and small ones—to experiment with building heights and volumes in the morning, and then spend all afternoon trying to widen a kitchen by 20cm so that the owner can look out the window while they wash dishes. I'll also be diving back into two of my other projects: 1 Hotel Djerba, the eco-hotel complex in Tunisia, and Roches Noires, an urban project outside of Casablanca in its very earliest stages.

Seeing the Ai Wei Wei exhibit at the Jeu de Paume and the Bob Dylan exhibit at the Cite de la Musique.
Finally, in honor of my third anniversary of moving to Paris, here's one final list:

Things I've learned after three years in Paris:
Enjoy yourself. Life is better with good food, good wine, and nice clothes.

How to strike the appropriate balance of irritation and utter helplessness that inspires public officials to do their jobs.

How to open metro doors with a disaffected flick (why they can figure out how to electrify an underground train and yet cannot automate its doors is beyond me.)

Never leave your apartment without a book, a corkscrew, eyeliner, a city map and an umbrella. Because chances are, you will wait somewhere, drink something, meet someone, get lost, or get rained on.

Real bread lasts a day. Good baguettes, croissants, and sandwiches never come from the same bakery.

The subjunctive, the imperfect, and the non-negative

ne

.

Make friends with an electrician.

4 possible routes between any two points in the city, since, on any given day, the first two are broken and the third is on strike.

Never go shopping on a Saturday. Never go to a museum on the first Sunday of the month. Stay away from the first or the third during Fashion Week if you have any physical insecurities whatsoever.

If at first you don't succeed, complain again.

When in doubt, look bored.
Useless URL:
In that spirit, here's a useful (and very funny) tutorial for anyone coming to visit me (which I hope is

EVERYONE!

).
---
January 23, 2012
Tom, Julie and Dad helped Mom celebrate her birthday with a delicious dinner tonight at Le P'tit Laurent. Mom brought to share a very special bottle of Mumm Champagne that she brought back from the last time she came to visit me in Paris when we took a tour of the winery in Reims.
Julie had mussels, Tom devoured his rabbit, Dad had ono on the prix fixe "neighborhood menu" and Mom really enjoyed her sea bass. For dessert, Julie and Tom enjoyed a crêpe and Mom and Dad had a delightful French toast with caramel ice cream.
The service is always very considerate and unrushed, allowing ample time for genial conversation. Their charming waitress, Kris, was interested to hear that I'm living and working in Paris. A nice touch about the restaurant is that the staff are apparently real French natives so you never question whether any detail might somehow be incongruous…no Chinese cooks or Mexican dishwashers (or vice versa) in the kitchen, as far as we know.
Also the rain stopped and the evening turned out to be clear and lovely. A perfect birthday celebration!
And, very fortunate for everyone, Dad didn't try using the "faking French conversation" techniques in the hilarious video I mentioned yesterday.
---
January 22, 2012
Kung Hee Fat Choy! Happy Chinese New Year!
Here's an interesting article from the BBC about the symbolism of food. The text version of the article on Dad's website (Sassasfras4u.com) is here. It appears on the spreadsheet for February 3, 2012, as file number 39.
And

Happy Birthday to Mom!

It's Mom's birthday today! She says she's now officially "older than dirt"…just like Dad.
Tom, Julie, Dad and she are celebrating tomorrow with dinner at Le P'tit Laurent. Too bad I won't be there to help Dad translate any French on the menu. He may embarrass himself by following the techniques recommended in this funny YouTube video.
Sadly, the 49ers lost a heartbreaker to the Giants in overtime today, so they won't be going to the Superbowl this year. However, we're very happy that they got this far this year, considering their dismal performance during the last two decades.
---
January 8, 2012
Things I did in December:
Toured around the island of Djerba, Tunisia, to visit three different sites our client wants to develop. I was so excited to see wild camels and pink flamingos that I let out a little shriek of excitement, which probably means our clients will never take me seriously again.

Plus, our tour guides kept promising to show us a "Magic Camel," which sounded

AMAZING

. I kept imagining rubbing its sides and getting three wishes. As it turns out it's just a type of pottery used to make salad dressing, but I'm pretty convinced that if I keep rubbing its sides, something will eventually happen.

Spent Christmas and New Year's in Rome with my friend Alice, her family, and their very flatulent dog. Alice and her sister took me on what I've started to call the "Look! Look! Eat!" tour, which is really the only way to visit Rome. Besides the art, the buildings, the city itself, and its many tall swarthy inhabitants, I especially enjoyed getting a glimpse into everyday life—where the families shop for Christmas, where the young people go dancing, where your average Romans go to argue and then kiss and make up.

I spent a couple of days in the countryside north of Rome, near a town called Viterbo. 91-year-old Nonna and I had a long talk about Rome in the forties, family and relationships, and her travels across France, Japan, and Hong Kong—all fascinating and inspiring and completely unaffected by the fact that we do not technically share a common language.

We young people spent New Year's Eve at a friend's house, where the centerpiece of the dinner table was an entire leg of prosciutto, and where the flow of food was interrupted only by the pop of fireworks outside. Then, after dinner, two bearded men pulled out guitars and everyone sat around singing folk tunes into the wee hours. I couldn't help but contemplate other times, with other such people singing other such songs. As it turns out, no one was familiar with "Whose Bed Have Your Boots Been Under."

I gave Dad a

Calvados

boxed set: a bottle of Calvados—a speciality of Normandie (or Normandy, in the US)—and 4 drinking cups that are nearly identical to sake cups, of which Dad already has an over-abundance. He enjoyed it so much that the bottle's already empty. (See the December 10 entry about my jaunt to Normandie.)

I found a good New York Times article about Calvados. You can download an MS Word RTF here, or go to the original article here.
In summary:




The best thing I ate in Rome: truffle sausage. At the wine bar where I first tasted it, I tipped the entire plate into my mouth while the Italians were arguing.
The best piece of art: Caravaggio's

The Calling of St Matthew

, glimpsed when I least expected it, in a little nook in a French church.
The best piece of architecture: either Borromini's

San Carlo Alle Quatro Fontane

, or the Pantheon. 2000 years old and still breathtaking.
The most random celebrity sighting: Emma Stone (from Superbad and the Help), on the Palatino overlooking the imperial forum.
Things I'm looking forward to in January:

EXERCISING

. Also: sleeping.

I really want to learn Italian. Mostly so I can order gelato and read Calvino. In that order.

Heading up a team my bosses call the Village People, since we have three different "villages" to design, and also because of our outfits. After working on many different programs at many different scales, it should be an interesting exercise to work on three projects of similar size, but with very different contexts and constraints.

Getting my tickets to Berlin to see Radiohead in July with the Rome crew! I've never been to Berlin and am absolutely thrilled to have an excuse—any suggestions?
Useless URL:
---
January 2, 2012
Happy New Year, everyone!
I'm still in Rome but will be heading back to Paris tomorrow…shucks!
I've enjoyed lots of good eating and drinking and was treated to lots of fireworks. Dad said that, for the first time, things in Hawai'i were unfortunately pretty quiet, thanks to new laws that make it unusually difficult for ordinary folks to buy and burn fireworks. After being such a tradition for many generations it's been kind of a bummer this year. They don't even allow sparklers now!
But, fortunately, that didn't stop our neighbors the Reeves, who shot off their illegal professional-looking aerials as usual. So Grandma and Aunty Carol could enjoy a nice display from their dining room. Very convenient to be able to enjoy live festivities by looking out your window.
Mom had her annual cookie party yesterday, New Year's Day. I was sad I couldn't be there this year—this is the first year I've missed it. But it was a lot of fun for those who came.
Dad watched all but the last 2 1/2 minutes of the 49ers-Rams game when it looked like the Rams were marching down the field to pull out a last-minute win, while the 49ers were about to pull defeat out of the jaws of victory, as they've done many times during the last two decades. But it turns out that they were able to hold on to win after all, ending the season with an impressive and convincing 13–3 winning record for their rookie head coach Harbaugh. Hooray!
It was almost as good as the 1990 season when I was growing up and the 49ers beat John Elway's Denver Broncos 55–10 for their very impressive fourth Superbowl title, during the decade Dad and I were really into it—both football and baseball (when the A's and Giants were in the World Series that was interrupted by the "great earthquake"). It was a good time for me to be growing up in the Bay Area in terms of sports…although it wasn't so great in terms of the major earthquake and Oakland-fire disasters.
Dad somehow managed to be in the boonies of the Southwest during BOTH disasters, so he was extremely worried both times, being completely out of touch for several days due to the extremely heavy emergency phone traffic (also this was before cellphones so he had to find a pay phone to use each time) and very spotty radio reception where he was, in the middle of nowhere (AM only at night, no FM). Believe it or not, there are a few "blank spots" on the map where you can push the radio's "scan" button and it will cycle through the entire spectrum without finding a single station. He could only imagine the very worst the whole time.
Today, Dad watched the very exciting Oregon-Wisconsin game, followed by the almost equally exciting Stanford-Oklahoma State Rose Bowl game—except that Stanford lost. Too bad for us Stanford alums.
---
December 23, 2011: Rome!
I've arrived safely in Rome! It's beautiful here and I've already had pannetone twice! Now have to rush off and eat pizza!
---
Mom took Dad, Tom and Julie to the Singapore restaurant Straits for a wonderful dinner tonight to celebrate Dad's birthday.
Among the many dishes were roti prata, Indonesian corn croquettes, wok-fired mussels, Hainan chicken, Singapore chili crab (wonderful!), Indian street noodles (mee goreng)…plus Nigori and Junmai sakes, and a nice bottle of crisp Pinot Grigio. They shared a bread pudding for dessert.
Afterwards they walked around the Westfield Centre, where it was a little quieter so they could talk more easily (the music was a bit loud in the restaurant).
They walked past Beard Papa (Japanese cream puffs made to order—very popular in Hawai'i) but were too full—or rather, too fully satisfied—to eat any more.
Tom and Julie will be up in Napa this weekend visiting their good friends Stephen and Marion, who have a young winery making premium wines: Sylk Cellars.
Very interestingly, Aunty Mary's friend Bruce also has a new winery (near Cloverdale) and Dad found out a week ago at her holiday party that his museum colleague Nora's son-in-law also has a winery of about the same "vintage" in Napa. Since their wineries are the same young age, I hope they will have a chance to eventually meet each other.
---
December 10, 2011: Happy Birthday, Dad!
After spending the first week of my month with houseguests and a cold, here, at last, is what I've been up to.

Things I did last month:
Took a rare jaunt outside of Paris to explore the town of Honfleur, in Normandie across from Le Havre. It's an adorable old port town full of beautiful medieval buildings, a great beach looking out across the English Channel, and some enormous cows. But really, I spent 80% of my time there working my way through Normandie's "six C's"—camembert, cidre, cream, Calvados, crêpes, and caramels! Then I came back to Paris and celebrated.…

Thanksgiving! All the Americans in my office realized how much we LOVE Thanksgiving, and couldn't stop gushing about Thanksgivings past to roomfuls of baffled Europeans. I got to celebrate both at my office Thanksgiving potluck lunch (at which we introduced our French coworkers to such exotic American dishes as "cranberry sauce" and "cornbread"), and at my friend Bob's house for dinner that same day. His wife Sarah made an astounding selection of pies that my friends and I, as per Thanksgiving tradition, pounced on like a pack of underfed wolves.

Made my own butter! One of my contributions to our Thanksgiving potluck was pumpkin biscuits, which call for buttermilk, which does not seem to exist in France. So, after a little Internet research, I learned I could either add lemon juice to normal milk or I could put heavy cream into a jar and shake it for half an hour. The latter choice was obviously irresistible. So I put on some Swedish disco and got a-shaking, and sure enough, half an hour later I had a jar half-filled with buttermilk and half-filled with butter! I was almost as excited about this as I was about the rest of Thanksgiving.

Discovered the sheer bliss that is baked Mont d'Or cheese, served bubbling in the cask, at a Montmartre cave à vin called Vingt Heures Vin. Had I lived before Mont d'Or?

Then I exercised a LOT.

Went to see the incomparable St. Vincent in concert! I had no idea she was such a legitimate punk guitarist. Her on-stage antics would put Marty McFly to shame.

Things I'm looking forward to in December:
Spending Christmas in Rome and New Year's on l'Isola del Giglio in Tuscany with my dear friend Alice and her cousins, all of whom are named Francesco. She has already started me on an exhaustive gustatory regime so as to not disappoint her grandmother.

Going to Tunisia! (for real this time). I leave tomorrow for a very brief site visit to Djerba, and may try to finagle a day or two with my friend Shiraz in Tunis. I'm excited to check out the Tunisian troglodytes" (traditional cave-like traditional dwellings), as well as the 2000-year-old El Ghriba synagogue, a remnant of one of the oldest Jewish communities in the world. But mostly I'm excited to go to the beach. Fun fact: Djerba is believed to be the island of the Lotus-Eaters. So, if you don't hear from me by the beginning of January, I've probably decided to stay and eat rosewater pastries forever.

Thanks to the generosity of our Tunisian client, I'll be spending the bulk of my Sundays experimenting with new uses for dates. I've already done an apple-date crumble and a Moroccan date-olive lamb tajine and I still have about 600 million left. Any suggestions would be greatly appreciated.

Celebrating my dad's birthday (à distance)! Happy birthday Daddy!

And finally, a useless URL:
One might think, I am an architect. I live in a country with more cheeses than days of the year. I got this." One would be wrong. Cheese or Font.
---
December 8, 2011
I'm looking forward to taking it a little easy this weekend because I'm recovering from a cold that has been circulating around the office.
However, I can only "relax and recover" until Sunday night—Dad's 67th(!) birthday, when I have to fly to Tunisia to work on a project.

I'm sure it sounds much more exotic and exciting than it actually is.
---