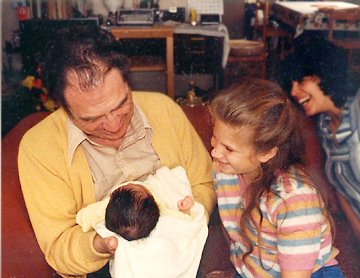 With Grandpa and Aunt Sarah.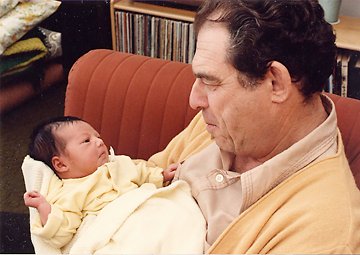 There seems to be a very strong family resemblance.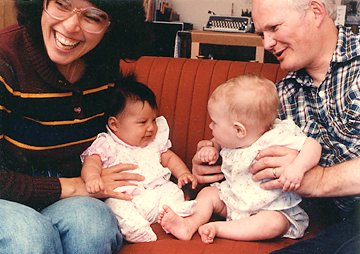 Being (re)introduced to Elizabeth Bury-Battin, who was born three months before I was. She is now (2005) studying at University College in Cork, Ireland, after finishing up last year at Wellesley. Too bad our residency on the east coast didn't overlap.

After attending summer school (2004) she and a friend from Philadelphia drove across country together. They spent a day in Chicago, visited the Badlands and the Corn Palace in South Dakota and got their S.D. truckers hats, taking loads of pictures along the way.

While Elizabeth was crossing the Badlands, her parents Susan and Harry were in Las Vegas, where Harry was attending a conference. Susan had never been there despite it being next door to her native state. They saw the Monet exhibit at the Bellagio and the musical Mamma Mia! at Mandalay Bay. The Monet exhibit was wonderful. It contained 20 paintings on loan from Boston'a MOMA. There were no crowds and there was no hurry. They were able to linger in front of each painting and look at all the little details down to the brush strokes!

She's sharing an apartment with a local Irish girl whose family is from the suburbs of Cork. In December 2004, she and her dad visited Paris and Madrid and had a wonderful time, I'm sure.




Sheila worked with Mom at the lawbook publishing company Bancroft-Whitney before I was born and today still works [since retired] with Mom at the California Supreme Court. Gammy (Gamila) and I are only months apart in age too.