GRADE SCHOOL FRIENDS
---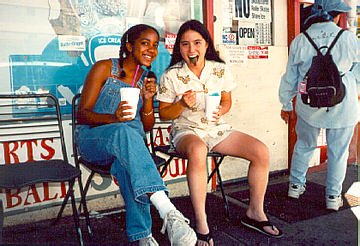 My grade school friend Yasmeen, who now lives in Hawaii, is a singer and has a CD out. They're enjoying shave ice at Jung's. Unfortunately, I'm eating vanilla-flavored shave ice, which turns your tongue bright blue. Jung now has a new location on South King St., across the street from Washington Intermediate School, just in case you want to go there. For more about Jung's, go to Family Friends.

By coincidence Yazie's friend Melanie, who went to Punahou High School with her, decided to go to Stanford and ended up in my Japanese class. Mel and I were both active in Hillel (the Jewish student's association) and the Hawaii Club and have become good friends.

The Hawaii Club had a luau on May 7, 2000, and, although it rained lightly but steadily, everyone had a good time and I won a raffle prize (a poster and a KCCN sticker, which was obviously old because the coupons on the back expired years ago).

Mel danced the hula beautifully with the many other Hawaii Club members, to the accompanyment of Patrick Landeza (a Berkeley Kiho'alu, or slack-key guitar, artist) and everyone enjoyed the performance and the food. We went to get food a little late so they ran out of poi and haupia but the guy sitting next to us got us some freshly homemade, which was very ono. It was made by the mother or the aunt of one of my friends, which made it all the more special.

We had Mel up for Passover Dinner (Pesach) and it was the first time she's had Pesach where sashimi was served (although Mel is a vegetarian) and where chopsticks were used. It was also the first time Mel had artichokes (just like my freshman-year roommate, Brenna, who was over at Thanksgiving).

Click here (or go to "Stanford" then more pictures) to see pictures of Mel and her mother in Hawaii.
---
Mrs. Nomura's Retirement Party
June 17, 2004
Yasmeen and I attended Nomura School in Richmond together, from preschool through fourth grade. Dad and I went to Mrs. Nomura's retirement party at the Berkeley Marina, celebrating 40 years of her dedication to education.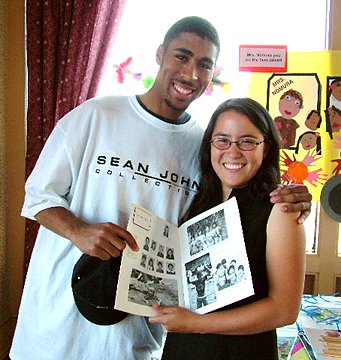 We saw Eric McClain and his parents there. Eric is now a professional baseball player with the Pittsburg Pirates.

We're holding up one of our gradeschool yearbooks with our school pictures. Eric is using a hula hoop in picture at bottom left on the right-hand page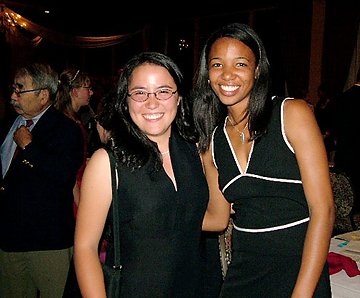 We also saw Kassa and her parents. Kassa is living in Atlanta now and we hope we can get together at some point when I am at Harvard, either she should come up to visit New York or Boston, or I would like to visit Atlanta sometime (schoolwork permitting).

Coincidentally Kassa also continued studying Japanese through college and was in Kyoto on the same Japan-study program as I was on but was there for the two quarters just before I arrived in the spring of 2002. If we had known about our respective plans beforehand we might have been able to study in Kyoto together. Wouldn't that have been a remarkable coincidence! (See Sakamoto > Dad visits me in Japan.)
---