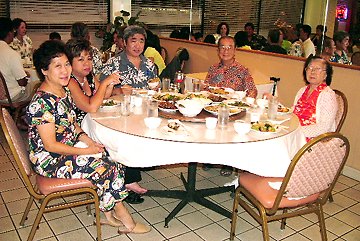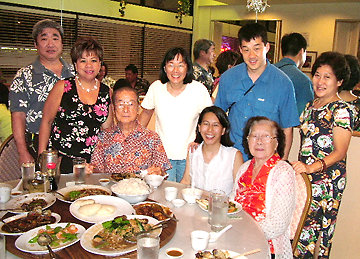 After I left, Dad and the family continued to enjoy large delicious meals, here at Duck Yoon in celebration of Grandpa and Grandma's 62nd anniversary.
Near the end of dinner, cousin Yvonne (center, also see top photo), who just happened to be eating dinner there again too, came over to introduce us to our Australian cousin Leanne Jan and her husband Jody Wong. Leanne is Muriel's (see Au > Pearson) niece and was born and raised in Sydney, and thus has an Australian accent that everyone found most delightful and surprising coming from one of our own relatives.
Leanne is expecting so we were excited to learn that in a few months we should have yet another new Australian relative.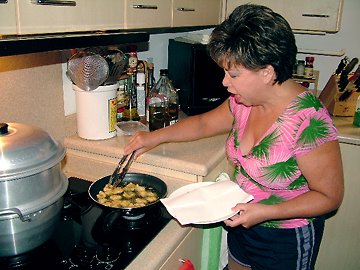 Aunty Nadine went fishing with Ed at Nu'uanu Reservoir and caught the biggest catfish amongst their group. She fried it up the next day for Dad and the rest of the family to enjoy.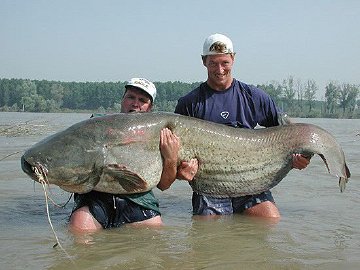 However, it wasn't nearly as big as this catfish: this picture was sent to Dad by Uncle Tom in March 2005.
Uncle Tom wrote: "This is a picture of a catfish that a guy recently caught at Lake Texoma.
According to the news, he was fishing from the shore with a 20 pound test line. When he realized what a huge fish he had caught, he stayed in the water with it and kept it close to shore with his hands. He used his cell phone to call a friend and tell him to bring a scale.
The friend got there and the scale topped out at 100 pounds. They took it to the nearby Bait shop and weighed it there. It weighed 121 pounds!
Luckily a Game Warden was there and called the Athens Freshwater Fisheries Center and asked them if they wanted the fish. They sent a 'live truck' to the site and brought the fish safely to Athens.
They are getting it ready for the public to view. The paper said that it would be two to three weeks before they'd release it into the public tank. They estimated that the 121 pound catfish was about 27 years old!"
If you think this fish is amazing, here's an even bigger one caught May 2005 in Thailand and reported in National Geographic News on June 29.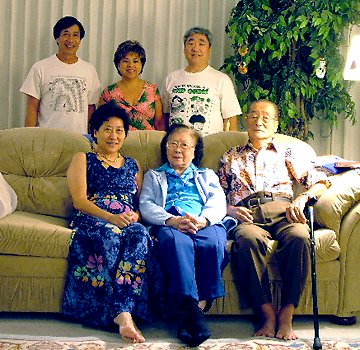 Family portrait after the last poi supper before Dad left.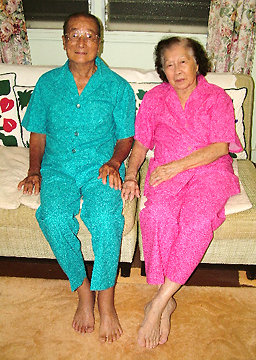 Aunty Mary custom-made bright new pajamas for Grandma and Grandpa for their 62nd anniversary.


1 | 2

---