With Aunty Mary. Many of the photos on these pages are by Dana Trout, Dad's good friend from his Electrical Engineering days at Cal Berkeley — which means they've known each other for 41 years, nearly twice as long as I've been alive! Thank you, "Uncle" Dana and "Aunty" Sue for helping me record the memories of these two big days.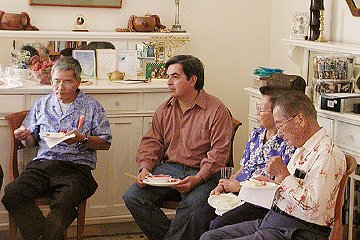 Robin Leong (our neighbor in Hawaii, only two back yards away, but has lived in the Bay Area longer than Dad), Tom Casacky (Dad's traveling, eating, wine-drinking, Macintosh computer, hi-fi, jazz-music, etc. buddy; hopefully sometime soon they'll be collaborating on a book with Tom's writing and Dad's photography), Grandma and Grandpa enjoying the cake.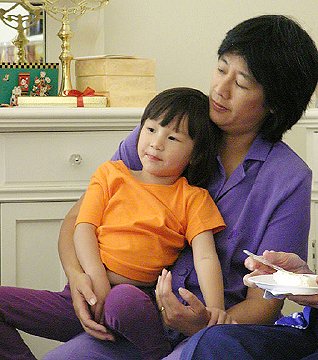 Aunty Kathy and cousin Kaitlyn.