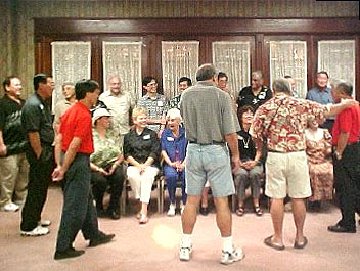 Carol (Galbraith Arnold) took a photo of us assembling for a group photo of the '62 grads. Jerry (in shorts and brown-and-white shirt) or his brother (gray shirt in center) took the second photo with Carol's camera.
The Falcon banner came from the military golf course clubhouse where the golfers in the group played the day before. Coincidentally, the colors of the banner designating the F-16 Fighting Falcon aircraft are the same as ours and they were generous enough to give us the banner. How cool is that?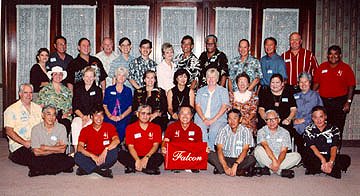 Hooray! and mahalo! to the reunion committee and all our classmates who made this reunion one of the most fun and memorable of all.
The official reunion photos were taken by:
Reflections by Jerry Whaley
Please contact him if you would like to order an 8" x 10" print:
98-1684 Hoomaike St.
Pearl City, HI 96782
Phone or FAX: (808) 456-3142
Good job, Jerry! Mahalo to you too!

---

Robert Morgan created a 40th reunion website (now inactive) with lots of photos, including our official group photo taken by Jerry. Our 40th was on September 13 – 14, 2002, with an informal get-together in the Kalani cafetorium and a dinner at the Treetop restaurant in Manoa.

---

While I was in Las Vegas, I was able to visit an old friend, Ed Chu, who I used to hang around with when he lived in the Bay Area. We've known each other since the '70s, when I used to have a camera and telescope store called Refractions. He was one of a group of friends that used to hang around the store so regularly keeping me company that they became known as the "Refractions Social Club."
My cousin Lynette and her family also happened to be in town from Honolulu visiting her son Lawrence, who is a pharmacist there. To see pictures, go to Au > Loo.
---