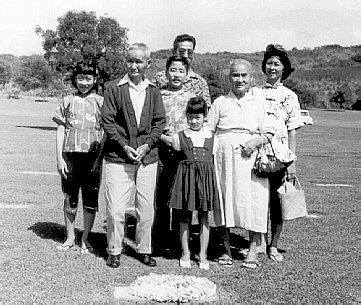 At Punchbowl (National Memorial Cemetary of the Pacific) visiting Uncle Willy's grave. Carol, Ojichan, Michael, Grandpa, Mary, Obachan, Grandma.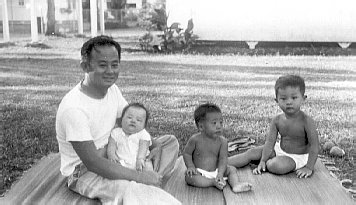 Uncle Susumu with Karen, Dad and Gordon.

I welcome contributions to the "Family Website," photos or stories. Please send them to me at telescapes
earthlink.net so that we can share them with the rest of our family and friends. Please type the email address in manually; I removed the live link so that Webcrawlers which are currently out there will not be able to grab the address to send SPAM (junk mail, not the canned meat product popular in Hawaii) or viruses to me. Sorry for the inconvenience.
If you have access to a scanner or a digital camera, you can send me digital photos by email. I am limiting the size of the pictures to 5 inches maximum dimension so that people with small monitors or WebTV like my folks can view the whole image. The resolution of the scans should be 72 dpi and I can use JPEG or GIF images.
You can send me caption information or stories pasted into an email message, or attached as a text file or word-processing document.
If you don't have digitized photos you can always send me copies of pictures by regular mail (email me for the mailing address) and I will scan them and return them to you.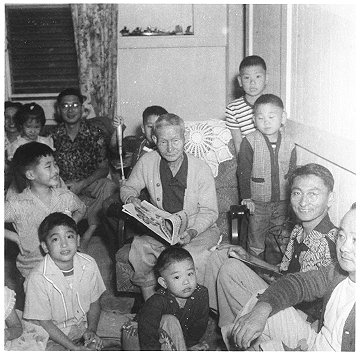 Ojichan and Sakamoto family at a party at Grandma and Grandpa's house in Kuliouou. The picture was probably taken by Grandpa using his Rolleiflex and large flashbulb attachment, which Dad still has stored somewhere in his closet. The photo was taken before Aunty Carol's bedroom and the extension to the living room were built; the doorway to the kitchen is in the corner. Dad's plastic ship models are on display on the shelf next to the doorway.
Thanks to Margaret (Peggy Nakamura) Wesley for sending me a scan of the photo above. She's been very busy scanning old family pictures from her grandmother (Aunty Margaret) and her parents to archive.
— Francis

---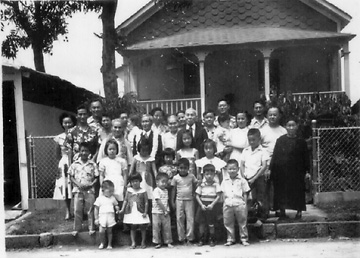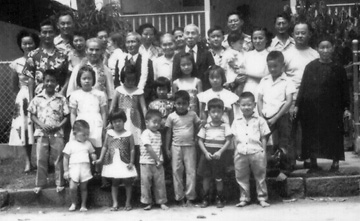 The family at an unknown event at Ojichan's and Obachan's house in Kaka'ako. (This small contact print was found in Uncle Sueo's house by Jean and Carol.)

---