Naomi and I were having lunch at a restaurant across the main street (Senbon Dori) from her apartment and I was still experimenting with my newly purchased camera. One hesitation I had before buying it was that everything is in Japanese, including the instruction book and some of the camera readouts. I was busy making use of my rudimentary knowledge of katakana (the phonetic alphabet for foreign words), which I started memorizing just three days before arriving, plus help from Naomi with some of the kanji (the Chinese pictographic characters — you have to recognize some 3,000 of these much more complex characters just to be able to read the newspaper!) and hiragana (the complementary phonetic alphabet to katakana but used only for native Japanese words that don't have proper kanji or by kids just learning to write), to decipher as much of the manual as I could before leaving Japan.
I started shooting at the default low resolution (1Megapixel) setting, experimented with the medium (3MP) and highest (6MP) resolutions at various JPEG compression settings but soon settled on the 6MP-"normal" setting, which gives me a good compromise of 112 quite good quality pictures per card.
The two pictures above and those of the grocery store shelves on page 4 were taken at the low resolution 1MP setting. Most of those below were taken at 6MP except the ones at Toji Temple, which were at 3MP. The photo at the bottom of this page (in the shabu-shabu restaurant) and those on page 5 were taken with the point-and-shoot 35mm film camera. The differences in quality between images are not visible on these pages because of their small size but they become apparent when the original files are viewed on my computer monitor at higher magnification.

---
There were other restaurants nearby where we had breakfast, including one called "Colorado Coffee Company." Japanese breakfasts took some getting used to. They usually included a small green salad and some had two kinds of small sandwiches (sa-n-do-se-to, or sandwich set) in which the bread was opened up like a small pita; one was filled with small slices of ham and cucumber and the other had deviled egg and lettuce in the pocket.
A latté or cappuccino costs the same as a regular cup of coffee so we always got a latté or cappuccino, which made us feel like we were getting a good deal, or at least that we weren't paying too much for just a cup of plain old coffee.

---
To anyone planning to visit Japan, I would highly recommend memorizing katakana. It's an endless source of amusement! Since it's reserved for foreign words (although now you see even native Japanese words written out in katakana even though they might have proper kanji or should be written in hiragana at the very least) and since most foreign words turn out to be English, it's possible to read many signs, although it may take several moments before it dawns on you what those words are.
You can try it out for yourself by downloading the katakana (PDF 42K) and using it to translate the "code."

Some are relatively easy to read (especially given the visual clues), such as the sign for ma-ku-do-na-ru-do-ha-n(m)-baa-gaa (Macdonald's Hamburger). Others are more difficult to figure out, especially since there are no spaces between words, no plurals, no punctuation marks other than maybe a period and funny right-angle parentheses, and no capital letters.
Sometimes they leave off trailing syllables or whole words, or seem to add many more syllables than necessary. Bi-ru is building but bi-(plus a dash to extend the sound slightly to bii)-ru is beer (an important word on this trip); fu-ro-n-to is front desk. Chi-zu is a map but chii-zu is cheese — you could very easily be disappointed and quite confused by asking for one of these items using the wrong pronunciation.
The dash (which seems to function as sort of a macron to extend the sound) is used quite a bit, such as can be seen in the Macdonald's sign above. When written vertically the characters are read in each column top to bottom, right column to left, and the dashes are vertical. When written horizontally the characters are read in rows left to right and from the top row down, and the dashes are horizontal (notice the corresponding characters on the vertical and horizontal Macdonald's signs).

---
The only (very strange) exception I discovered is on signs written on trucks or vans, where the horizontally arranged characters are read left to right on the left side of the van but right to left on the right side — I guess it makes sense to read it from the front of the van to the rear.
I couldn't figure out for the longest time "Kangaroo Delivery Service" (ka-n-ga-ru-[dash]-de-ri-ba-ri-sa-bi-su) when I was on the right side of an express-delivery-service van. It wasn't until I saw one of their vans from the left side that it all made sense.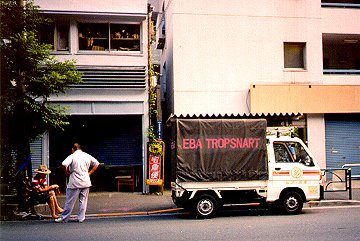 However, to make matters even worse, this is apparently sometimes done even if the characters are written in English. It took Naomi quite a long while to figure out that the truck above belonged to "Abe (pronounced ah-bay) Transport."
Naomi's childhood friend Erin Goodson would find this especially humorous since her mother and father pointed out that if the letters in her name were reversed her name would be "Nire Nosdoog," — by which we still refer to her from time to time. (Strangely, my name becomes transformed into something vaguely Greek: "Sicnarf Otomakas.")

---
Since there are no spaces, the first major difficulty you'll notice immediately is that you don't know where one word ends and the next begins. Long sentences can take an excessively long time to figure out, especially if you have just memorized katakana character by character. I'm sure I must have looked like a foreign idiot staring at signs for a very long time trying to figure out what they said, but at least I looked like an amused foreign idiot.
In the picture above, at least the English characters were separated by a space between the words Abe and Transport. Imagine the added difficulty if there were no spaces between English letters in a sentence or phrase and you'll have a good idea of what it's like to read katakana (and Japanese in general).
During the first week of her summer internship in Tokyo, Naomi ran across another example of not-immediately-obvious katakana: sa-a-mo-ka-me-ra (thermal camera). She's also come across "bi-pu-su," which I never would have been able to figure out; since there's no "V" in Japanese, it is the closest they are able to get to "VIP's"!
One of her friends in the Stanford Japan program was recently puzzled by another word that kept coming up very frequently when the use of a graphics software application was being explained. Fortunately the discussion didn't take place over lunch; "sa-mu-ne-ru" doesn't mean "salmonella" as anyone might hastily guess under that circumstance (incorrectly but with a momentary feeling of impending intestinal horror) — it means "thumbnail," a small preview (thumbnail-sized) image.

---
One good thing is that Japanese is very easy to pronounce. Unlike in English or other languages, there are no real accents and no radical variations from the few basic sounds. Whereas Chinese may have 5 different "tones" of the same syllable meaning 5 different things depending on how you pronounce it and is completely dependent on accents, Japanese only has one "tone" or accent so you would be understood if you pronounced your Japanese in a monotone. In this sense, it is the exact opposite of Chinese.
Also, unlike English, vowels always have the same sound (the same sound as in Spanish and, oddly enough, Hawaiian), a=ah, i=ee, u=oo, e=ay, o=oh. For some reason most Americans (exluding everyone from Hawaii) find it impossible to pronounce two or more of the same vowels in the same word the same way, which is probably why we butcher any foreign word that we try to pronounce. Mainland tourists to Hawaii have an especially hard time with Hawaiian words like Kaaawa (Ka'a'awa, pronounced "kah-ah-ah-vah") or Kalanianaole, for example.
A consonant is always followed by a vowel, except for "n," so, in particular, katakana (as well as hiragana and, I presume, kanji) is organized first by the five vowels alone and then by consonants (k, s, t, n, h, m, y, r, w) followed by each of the vowels.
There are "alternate" consonants created by adding two little marks somewhat like opening quotation marks (slanted to the left) to the upper right corner of certain characters. With these marks, k becomes g, s becomes z, t becomes d, h becomes b.
With a circle somewhat like a degree symbol (°) added after the characters, h becomes a p.
There are also some combination characters in which a main sound is followed by a smaller written character ya, yu or yo (and a few others recently added to more closely mimic the sounds in western words). Thus chi (oh, did I forget to mention another minor complication: that "ti" is usually pronounced "chi"?) plus a small ya becomes cha, as in cha-cha (very useful in case you want to find the local latin dance club).
This explains why a simple word like my name, Francis, has to be pronounced as a somewhat convoluted "fu-ra-n-shi-su." In contrast, my name as translated to Spanish, "Pancho" or "Panchito," (by which I am widely known around the Blackhawk Museum, thanks to my colleague Nora) translates directly to Japanese with no problem at all: "pa-n-cho" or "pa-n-chi-to."

---
There is no pure R or L per se but instead there is a combination sound similar to the beginning of the Spanish rolled-R that sounds like RL with a little D mixed in. You have to decide, if you are trying to decipher katakana, whether an R or an L is what they are trying to reproduce (see "weiner roll," at the bottom of page 2, in which the sound is an R at the end of "weiner" and the beginning of "roll" but an L at the end of "roll").
To the Japanese, that there is a distinction between an R and L (and D) isn't clear at all and this is demonstrated by the way English words are often written with these characters interchanged. This can cause great confusion, but much amusement, for visitors from the United States. Naomi informs me that a very popular Japanese rock group is named "Shaka Labbit," apparently a combination of Hawaiian "shaka" and English "Rabbit." She's also seen the word "probe" spelled "plobe" when written in western characters. You just have to keep an open mind when it comes to R and L.

---
Furthermore, even if something appears in English correctly spelled, it doesn't necessarily guarantee that it will make any better sense. This T-shirt was on prominent display on a mannequin at a store on Teramachi Dori (Street), a covered "arcade" (although it's also used by bicycles, cars and trucks so you have to be alert at all times to avoid being run over — picture below).
Whenever I saw something in English like this I would stare at it almost as long as if it were written in katakana, in the hope that it would make sense if I stared at it long enough. It's like when I was watching Japanese television on Naomi's tiny TV, I found myself turning up the volume and wondering why I still couldn't understand what people were saying.
Japanese TV was very interesting anyway, even though I couldn't understand anything. I noticed that the women always seemed to be very feminine and cute, in both appearance and behavior, whereas the men tended to be very goofy and exuberant, and dramatically so. This seems to be the image that the Japanese public enjoys watching for entertainment.
It reminds me of watching Spanish or Indian television on my cable TV back here in California. Sometimes I enjoy watching it for a different source of amusement. You don't need to know the language: the body language and sounds are enough to provide the entertainment.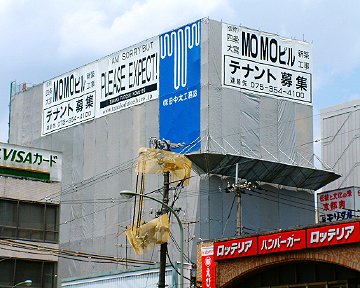 This sign on a building near Nijo Castle is another case in point: "I am sorry but please expect!" almost begins to make sense.

The katakana, the only other things I can read, says, Visa "kaa-do" (card), Mo Mo "bi-ru" (building), under it, "te-na-n-to" (tenant, but I can't read the kanji after it), and the red sign reads ro-te-ri-a-ha-n(m)-baa-gaa (Roteria [?] Hamburger).