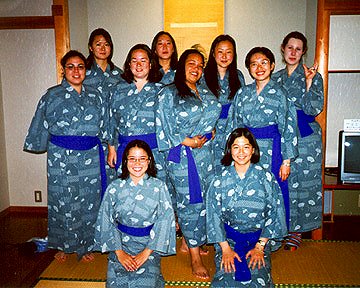 The group in yukatas at a ryokan (Japanese inn) in Miyajima. Standing: Casey, Claudia, Heather, Karen, Raquel, Jenny, Yvonne, Nina. Kneeling: Naomi, Liz.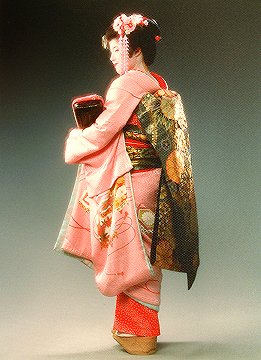 Naomi's mom wanted her to have her picture taken in traditional dress so she took Naomi to a portrait studio in Kyoto to have some formal portraits taken. It took about an hour for the assistants to apply the makeup and dress Naomi in the kimono.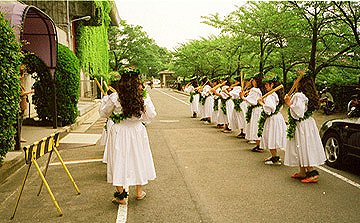 Of all things to see in Japan: a hula troupe of middle-aged Japanese women.

Raquel Diaz, Charlene Choi and Naomi at the Stanford Japan Center in Kyoto, where Raquel and Naomi studied during the 2002 spring quarter. Charlene is a Stanford student who was Naomi's good friend in high school. Although she is not in the Stanford Japan program, she and her mother came to visit Naomi in Kyoto on their way to visit their family in Korea.
Raquel is interning this summer in Kyoto and is living in Naomi's old apartment. Naomi has an internship with a large construction firm in Tokyo this summer.
I originally had a reference here about how well Naomi did in her classes in Kyoto but she was embarrassed and asked me to remove it. We're, of course, very proud of her academic achievements and if you email me at telescapes
earthlink.net, I'll be more than happy to give you the details and boast about her.
I think her grades are finally good enough to get into Cal! (I'm a Cal graduate and Carol graduated from UCLA — Stanford and Cal are archrivals.)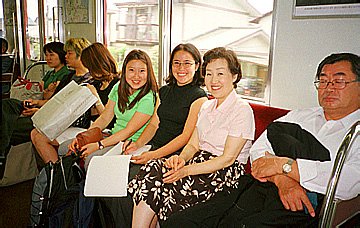 Charlene Choi and her mother invited us to join them on a train trip to Nara. (The boring fellow sleeping on the right is most definitely not in our fun! fun! fun! tour group!)