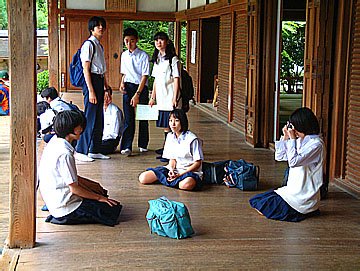 Everywhere I went and whatever day it was, including Saturdays and Sundays, there were school children in their uniforms. I think it's wonderful that they have the opportunity to visit shrines and temples to learn about and enjoy their very significant and ancient history.
This was at Ryoanji, which has the most famous zen rock garden in the world, to the left of this group of school girls taking a picture with the rock garden as a background.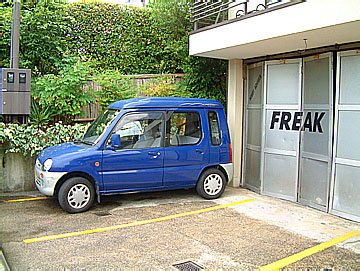 All over there are funny tiny cars which actually make sense for the very narrow streets in Kyoto but which are obviously not safe enough for US freeways to be imported. The sign on the garage door is apparently a brand name but I found it fitting.
It was hard to get used to seeing cars running around with the driver on the righthand side. I kept thinking that there was only a passenger seated in the car and that it was driving around by itself.
When I visited Tottori in 1986, on the Inland Sea side of Japan, I had to rent a car to be able to get to the famous sand dunes there. I'm glad I was young (relatively) and foolish (relatively) at the time because I'm sure I would not have been able or willing to do the same thing today. Not only did I have to figure out how to drive the right-hand-drive car with snow piled up alongside the roads, but I had to find my way around without being able to read any of the road signs.
I also had to find my way to a gas station, which aren't as prominently marked as gas stations in the U.S., which are visible from miles away driving down the Interstate. Plus, I had to find my way back to the rental car place to return the car.
Another thing that was noticeably different about Japan is that you get on buses at the rear and pay your fare when you get off at the front. The bus seats are covered with plush velour and the hand-straps are positioned low for short people. I found it a very nice thing that the bus driver said "thank you very much" (arigato gozaimash[i]ta) to each person getting off. If 10 people got off, he would say it 10 times (but in a deep-toned droll sort of way that Naomi and I got a kick out of imitating)!
Also, when you enter any business establishment, whether a clothing store, a fancy restaurant or a Macdonald's, every employee, from the maitre d' to the dishwasher, shouts out "welcome." And when you leave they all say "thank you very much."
I was also impressed watching the attendants at a gas station while I was waiting to catch a bus to Ryoanji and Kinkakuji. They, of course, gave full service to all customers and when people were ready to leave, two attendants would go out into the roadway to direct traffic and make sure that the customer got off safely and conveniently.
The bus stops have mechanical indicators which pop up to show when the bus you are waiting for is three, two and one stop away. I never did figure out how this useful mechanism worked (I was never alone long enough and I didn't have the proper tools to take one apart to examine it).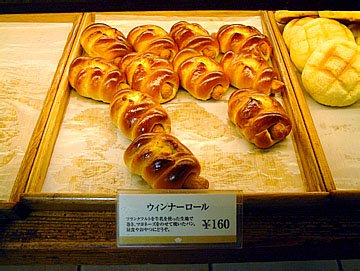 I had lots of fun reading katakana all around Kyoto. This was taken in the bakery of a large department store ("depato") downtown. In Japanese bakeries you take a tray and tongs and select the items that you want to buy. These are little hot dogs baked in a bun. The sign says "u-i-n-na-(dash to extend the sound)-ro-(dash)-ru" (weiner roll).

---