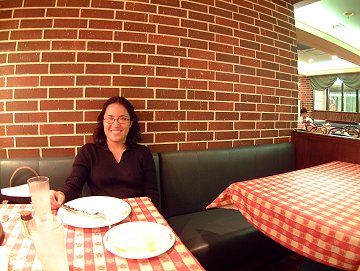 Naomi and I went to Shakey's Pizza Parlor one evening to try their all-you-can-eat (or, as they say in Hawaii, "eat-all-you-can") pizza and salad bar. The pizza toppings were a little weird; there is no plain-old pepperoni. Some of the choices were: corn and tuna; seaweed; ham and onion; custard, banana and chocolate.
The salad bar and pasta were very good, though, and once you got used to the strange toppings (although I stuck to the ham and onion) the pizza was pretty good.

This is just one of several areas completely devoted to tsukemono (pickles) in a large department store.

I'll take a "bar" without the "ber," please, and just a little off the sides.
Curiously, the hiragana in red next to the barber pole says, "ta–ba–ko" (tobacco). Hiragana is supposed to be reserved for native Japanese words, which goes to show how long people have been smoking in Japan. If you're curious, download this translation sheet of hiragana (PDF 42K).
Very oddly, although katakana (click on the link to download a 42K PDF) is supposed to reserved for foreign words, the word under "Bar & Ber" says, "I-no-ya-ma," which seems to be Japanese for Ino Mountain. … Now I'm really confused !!!