A pair of white foxes at Fushimi Inari. One fox holds a sacred jewel in its mouth that represents the spirit of the gods, while the other holds a cylindrical object which represents the key to a rice storehouse.
Foxes, especially the rare white ones, have long been associated with Inari. One legend says that an attractive fox pair visited the shrine so frequently that locals believed them to be messengers of Inari, and enshrined their images.
Another tale says that a pair of foxes were often seen romping in a nearby rice field and produced a healthy litter, a sign of fertility related to a bountiful rice harvest; the association between foxes and rice was thus established.
Today the shops near the shrine sell various fox-related trinkets, cookies and cakes. Restaurants feature fox-related foods such as inarizushi, a rice-stuffed pouch of deep-fried tofu, said to be a favorite food of foxes — and of Naomi. In Hawaii we simply call it "cone sushi."
Kitsune soba ("fox noodles") are made by adding the same fried tofu to a bowl of hot noodles in broth and is popular throughout Japan.
Other culinary treats include small birds marinated in shoyu (soy sauce) and roasted on bamboo spits. A tiny sparrow can be purchased for 420 yen, a quail for 700 yen. (We didn't partake of these special treats.)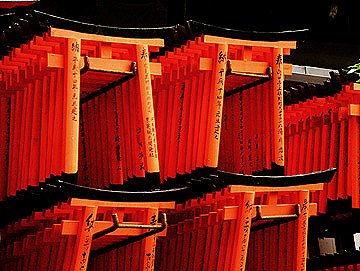 Small torii stored on a rack. These are used to place on altars…

…such as this one.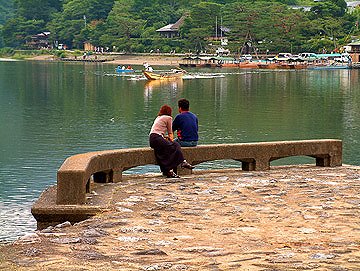 In Arashiyama the Hozu River is apparently called the Oui River just to the west of the famous old wooden bridge Togetsukyo ("Moon-Crossing Bridge," just out of view to the right of this scene) and the Katsura River east of it. The fishermen in the yellow boat in the background are fishing using commorants. Sometimes, at night, they use lanterns to attract the fish. They put rings around the commorants' necks to keep them from swallowing the fish before they can get them into the boat. I hope that the commorants are allowed to eat some fish afterwards as payment for their work.