NAOMI AT HARVARD
---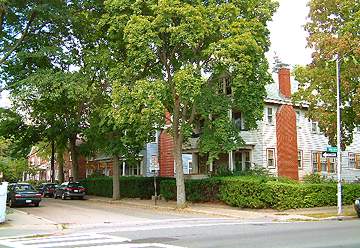 This is the corner of my street, Holden Street, at Kirkland Ave. Going west (to the left) on Kirkland takes me to GSD. My building complex is the red brick building on the left, just above the cars.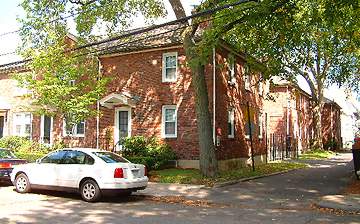 One of the back streets to my apartment/townhouse complex. My building is the third one back, just to the right of the tree trunk. The dumpster where I found the chair is just barely visible on the right.
The first impression my dad and I had when we saw the ubiquitous red brick sidewalks and buildings was, "how can they get away with such earthquake-unsafe buildings?" Then we realized that they must not have to worry much about earthquakes here.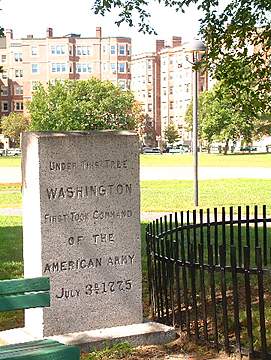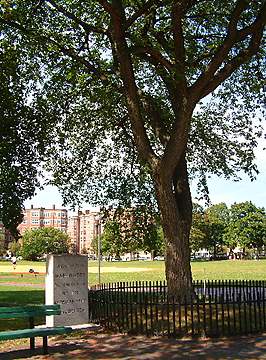 Walking around Cambridge, we found numerous monuments and plaques commemorating historical events, such as this one under (a descendant of) the original tree where George Washington supposedly took command of the Continental Army on July 3, 1775.
According to a Boston guide book, however, the historic event may, in fact, have occurred at another location of the park a hundred feet away … or it may have occurred at another location altogether. In any case, it seems to have occurred somewhere in Cambridge. And the baseball field likely wasn't there at the time.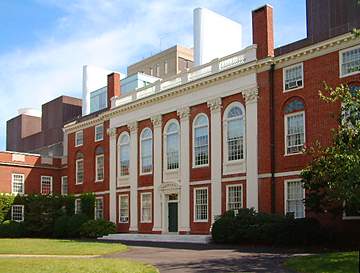 One of the music buildings at Harvard.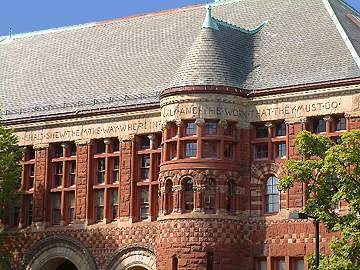 One of the beautiful old red brick Law buildings, where my friend Chris Drake is going to school. Chris says that his dorm is connected to all the Law buildings by underground tunnels so it's possible never to go outside in the sunshine. He asked me to remember to get together with him once in awhile during the year so that he (and I) will have an excuse to get out.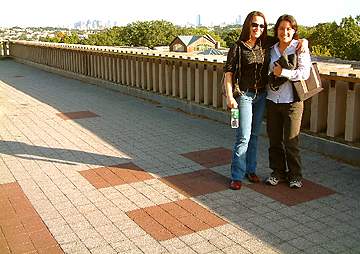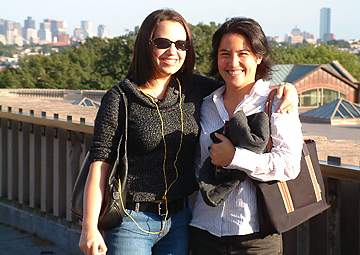 We were able to get together with my good high-school friend Melissa, who is attending Tufts. This is a view from the roof of the library, with downtown Boston in the background.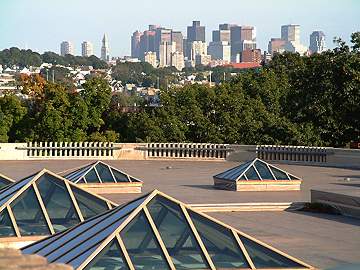 A closer look of downtown Boston from the library roof.

This strange monument on the Tufts campus says:
This monument has been
erected by the
Gravity Research Foundation
Roger W. Babson, founder
It is to remind students of
the blessings forthcoming
when a semi-insulator is
discovered in order to harness
gravity as a free power
and reduce airplane accidents
1961
… What? Say again …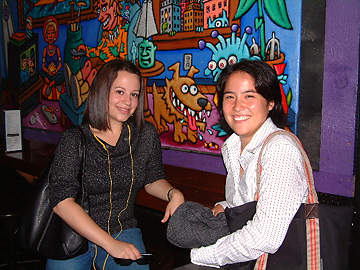 We had dinner at a ribs place called Redbones. The artwork in the basement is very interesting.
Dad had a combination plate of Memphis ribs and "pulled pork," a shredded pork which is similar to Hawaiian Kalua pig (see Friends > Family Friends > Kalua Pig recipe).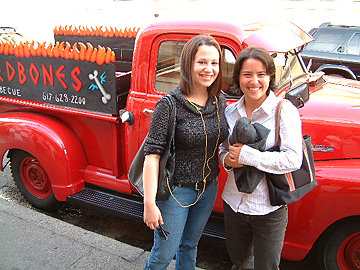 Redbones has a unique delivery truck.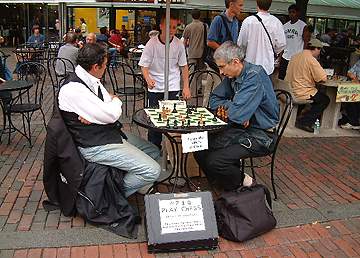 Chess players at Harvard Square. We saw a couple of tables set up where passers-by can play against a "master" (for a fee) to learn the game.

---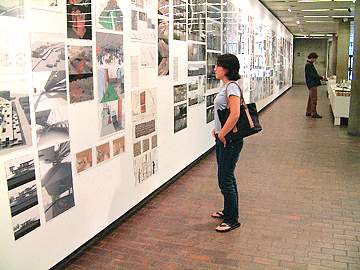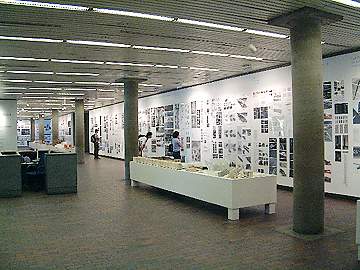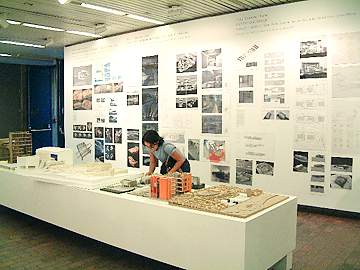 The GSD lobby, displaying student projects from last year. I'm sure that we'll be expected to produce similar projects very soon.
---