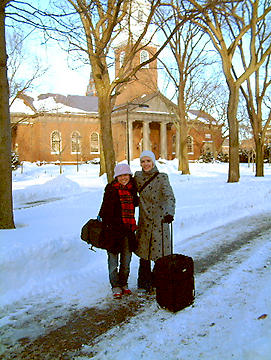 My new roommate Azra arrived on Sunday afternoon from New York on the same train that Dad and I were taking back from Quincy Market. Dad noticed her on the same car, sitting across the aisle from where we were standing, although he didn't know it at the time, until she called my cellular phone and met us at the Harvard Square train station. We walked back to the apartment from the station together.
Here we are in Harvard Yard with Memorial Church in the background. Azra's poor suitcase suffered many indignities on the walk home; the sidewalks and street corners hadn't been cleared in many places so the suitcase was dragged like a sled, sometimes upside-down, over snowbanks and on its side through the narrower single-file passageways.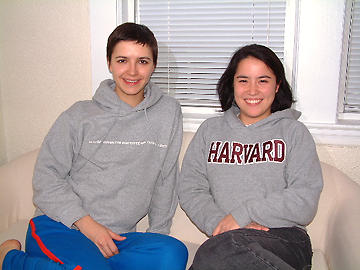 Azra and I are enjoying the warmth of our living room, wearing our respective school's sweatshirts: MIT ("Massachusetts Institute of Technology" fully spelled out) and Harvard; Azra is also wearing her Princeton sweatpants.
Dad bought a warm Harvard sweatshirt to wear under his coat and a nice Harvard scarf, which both served him well during his visit. He left them with me for my use during the remainder of this winter and for his use on future visits.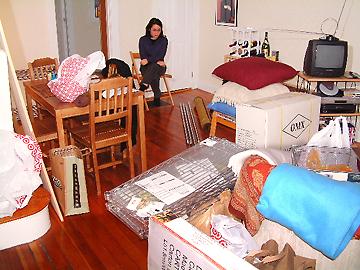 On the Saturday before Dad left, he rented a humungous SUV so we were able to drive around — all day! — to purchase some of the bulky furnishings and supplies that we needed from a Japanese grocery store, Ace hardware, Target, Home Depot, Office Depot … you get the idea. This is what the living room looked like after unloading. At first we laughed at the rediculous size of the car but after managing to completely fill it up, we decided it was just the right size after all.
Despite the "Great Blizzard of '05" and shuttling us around, Dad had a very enjoyable visit, especially gastronomically. We're fortunate to have some of the best restaurants just around the corner or within walking distance: Dali (Spanish: tapas, sangria), Kabob Factory (very good Indian cuisine, despite the name), EVOO (for Extra Virgin Olive Oil, nouvelle cuisine patterned after Thomas Keller's famous French Laundry in Napa), East Coast Grill, Casa Portugal, Pho Pasteur (Vietnamese), Pinnochio's (pizza with a delicious crust), Blue Fin (Japanese), Punjabi Dhaba (Indian), Thirsty Scholar (good selection of beer and surprisingly good food for a pub), Toscannini's (bakery, coffee and ice cream), and many more, including Sabur, a Mediterranean restaurant Azra knew, where we enjoyed (really enjoyed) our first Bosnian food and wine.
The refrigerator rapidly became stuffed with leftovers as we became equally stuffed with great food meal after meal.
---