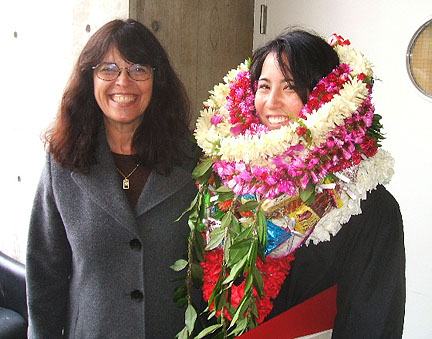 My proud Mom and me after the ceremony—with the obligatory smothering tower of fresh flower leis (hopefully my last).

Mom, Grandpa and me with my diploma after the ceremony.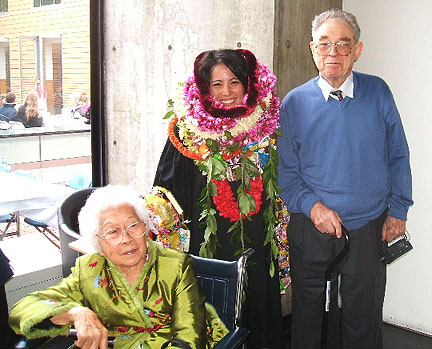 Grandma, Grandpa and me.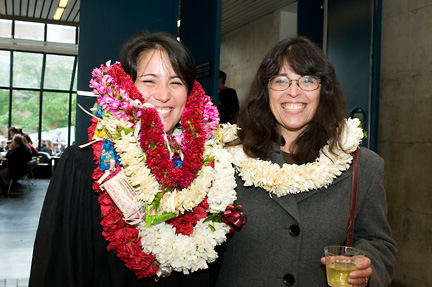 Mom and me.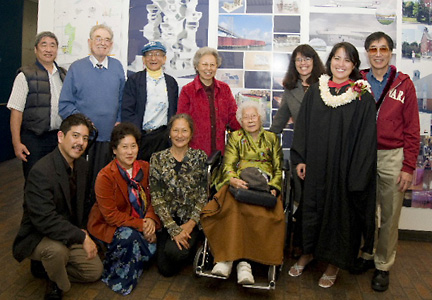 A group photo with my whole Harvard Graduate School of Design support group.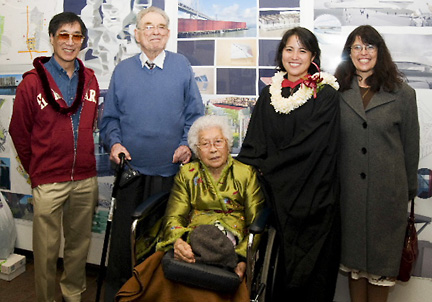 With Mom and Dad, Grandma and Grandpa.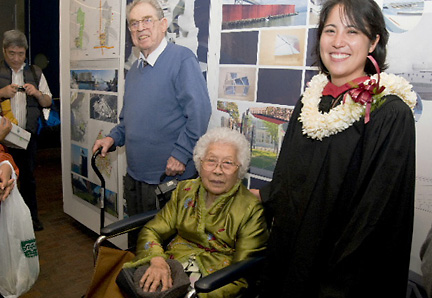 With Grandpa and Grandma.

The four photos above, and the photo on the previous page (11), third from the bottom, of graduates sitting during our graduation ceremony in the GSD (Graduate School of Design), were by professional photographer Anita Kan, who has an Oxford Street studio—Photo-Kan—near Harvard. Thank you, Anita.

My dad had to do considerable work with the Photoshop filters "Andromeda" and "Squeeze" (the latter which he actually helped invent, in collaboration with a software developer in the Netherlands—see Sakamoto > Dad visits me in Japan) in order to eliminate the wide-angle lens distortion that is inevitably introduced in the very tight quarters typically encountered in these indoor settings.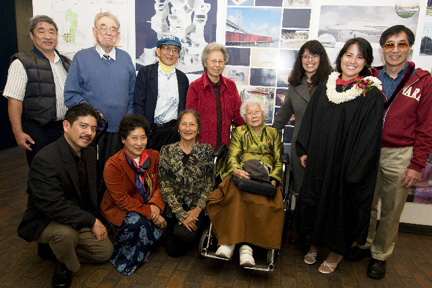 These wideangle lens distortions cause people's faces in the upper corners to appear banana-shaped and the unfortunate people standing on the left or right edges of a group photo to appear even more fat than they may already imagine themselves to be. In other words, this is the most unflattering position to be standing in a group photo, especially for women (…or for men like Uncle Michael, who have always enjoyed good food). From the photo above, you would think my dad is one who constantly needs to watch his weight and food intake.

For example, the photo above is the uncorrected version of the group photo three above. Dad, Uncle Michael, and Grandpa look oblong and unnaturally wide. And, by the way, I don't look too great either!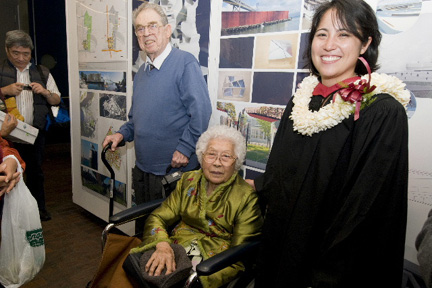 For another comparison, the photo above is the uncorrected version of the one two above. My head and Uncle Michael's don't look quite right, although Grandma looks fine, since she always manages to cleverly position herself in the center of the picture to avoid any unflattering distortion.

---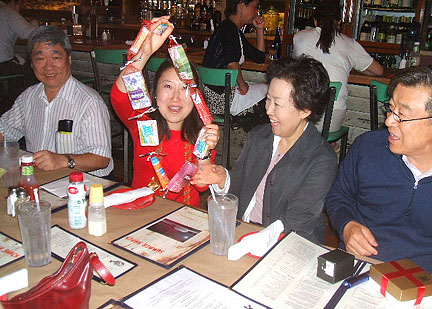 Charlene and her parents (on the right, with Uncle Michael on the left) with one of the candy leis my aunties made to give to my friends.

We enjoyed a very nice dinner at the world-famous Jasper White's Summer Shack in Alewife, north of Cambridge. Uncle Michael, Aunty Mary and Dad traveled there by train to meet us there and found that the restaurant was very conveniently located just across the street from the Alewife station, so they all got there easily and well before anyone else arrived.

Uncle Tom has said that the lobster there was the best lobster he's ever had, which is saying a lot, considering that he and Dad had a decade-long pre-Thanksgiving tradition of enjoying spectacular Maine lobster dinners at Lalime's for years — until Uncle Tom left California for Chicago. The television series America's Test Kitchen has featured the recipe (which Dad has preserved on videotape —but has not yet reproduced in his kitchen).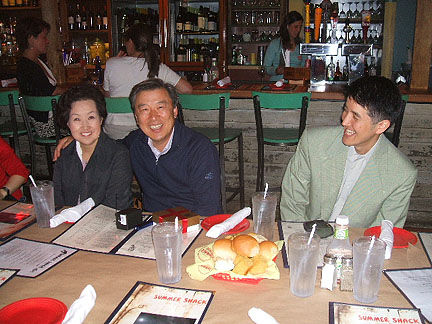 Charlene's parents and uncle.

Charlene with her niece, uncle and dad.