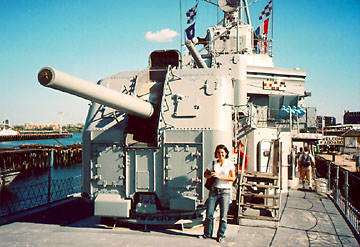 In the same shipyard is an old (although almost 150 years younger than Old Ironsides) World War II destroyer.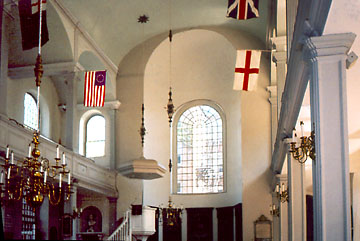 I took Dad on a historical tour of Boston along the "Freedom Trail." Boston has more sites related to the American Revolution than any other city and these have been linked together as a 2.5-mile walk marked with a red stripe on the sidewalks.
It begins at Boston Common and ends at Bunker Hill, which, to wrest control of Boston from the British in June 1775, was the scene of the bloodiest (but losing) battle of the Revolution.
The old iron bridge mentioned above is part of the Freedom Trail and Bunker Hill overlooks Old Ironsides.
One very prominent site along the trail is the Old North Church (technically "Christ Episcopal Church") from which Paul Revere was signaled by a pair of lanterns in the belfry — "one if by land, two if by sea" — to begin his legendary "midnight ride" on April 18, 1775, to warn the patriots of the departure of the British, beginning the War of Independence.
The British planned to march to Lexington to capture Samuel Adams and John Hancock, and then proceed to Concord to seize arms. To warn of the British arrival, the church sexton hung two lanterns to signal Paul Revere. The lanterns and Revere's ride is immortalized in Longfellow's 1863 poem Tales of a Wayside Inn.
During an encounter at Lexington Green, eight American militiamen were killed — becoming the first battle of the American Revolution.
According to Eyewitness Travel Guide, this church is the oldest surviving religious building — dating from 1723. The belfry contains the first set of church bells in North America, cast in 1745.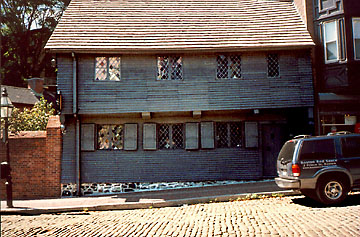 Then we went by Paul Revere's house, where he began his famous ride, and which still stands as a museum. It was his home from 1770 to 1800.
---