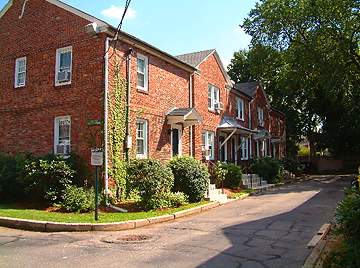 My front door is on the right side of the center awning. There's a beautiful big tree that provides shade for almost the whole day, which will be welcome when the weather's hot (we have no air conditioning).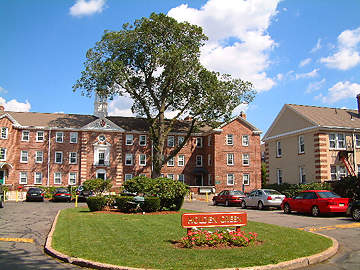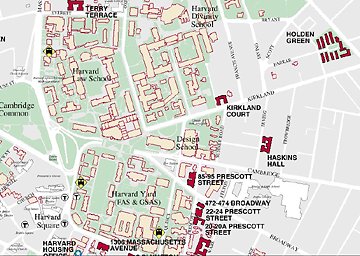 I'm in a Harvard affiliated housing complex of ten buildings called Holden Green (upper right corner of map), located about 5 blocks from the Design School, the Graduate School of Design, or "GSD" (center of the map), where I'm told that practically all of my time for the next four years will be spent.
On the map above, my building is the third from the left on the bottom row of Holden Green (upper right corner).
The photograph above is a view of the main building (right center building of the complex on the map); my building is to the right of the photo.
There seems to be quite a few nice families with young children so the surroundings are quite safe and pleasant.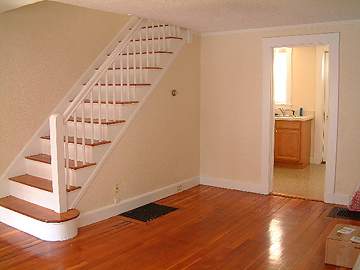 We arrived to find that when they say "unfurnished" they mean "unfurnished." There was nothing to sit on except these stairs for the first few days.
Dad and I had to rush around right away to buy a shower curtain and rings, soap, towels, two air mattresses, two sleeping bags, two pillows, two pillowcases, dishes, utensils, teapot, wastebaskets, etc., just so that we could survive the first night or two. It was a good thing Dad rented a car, otherwise it would have been impossible to get what we needed within a reasonable time.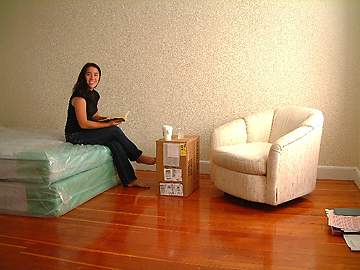 After a few days, my roommate's furniture started arriving from Sears and IKEA, so we had a couple of folding chairs and a bed to sit on and a couple of end tables.
One day, when we were taking turns staying home waiting for expected deliveries, I was on my way back when I spotted a chair next to the dumpster. I told Dad to take a look at it and he agreed that it looked in pretty good condition, so he carried it in to the living room. Then we had at least one comfortable chair to sit on. This was before the end tables arrived so we were using a cardboard box as a table.